Pasifika students explore what home is, writes Adam Gifford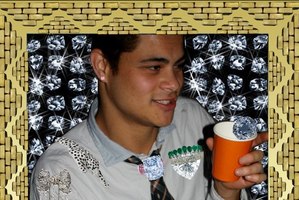 Forget last year's Home AKL at Auckland Art Gallery or If You Were To Live Here, the theme for this year's Auckland Triennial. The current crop of Pasifika art students being showcased at St Paul St Gallery want to bring it close to home.
Artist Ahilapalapa Rands, who is co-curating the show with her mother, fellow artist Melanie Rands, as part of the Tautai Contemporary Pacific Arts project, says Close to Home came out of visiting studios and art schools to choose the 15 artists included.
"It seemed open enough to incorporate works we thought were strong, and there are also nice readings - close to home as in touching a nerve, as in domesticity, and also close to home as a nod to the Pacific Islands and New Zealand's place as an island in the Pacific."
The works range from paintings to installations and sculptures to performance art. A Tongan brass band played at the opening on Thursday evening, and visitors can participate in some works.
Cordelle Feau has a project where visitors can share their memories of place, which will be added to a visual map.
Darcell Apelu has created a bed of rice vermicelli, the staple of Pasifika chop suey, on which she will lie for a period each day of the exhibition so the matted threads will mould to her body.
"We have a soft curatorial approach so we are not always sure of the outcome," Rands says. "The work promotes questioning, it doesn't explain everything so it does have to be completed by the viewer, either through participating or by raising questions of identity or of what is their sense of place or home."
It's also work that addresses questions of identity in a different way that some of the kiwiana stereotypes promoted by the advertising industry and the New Zealand Inc boosters.
"There are a few angles that are always taken that become boring and overdone. I hope this show might muddy the conversation, make it more complicated," she says.
Although all artists share Pasifika heritage, Rands says they shouldn't be pigeon-holed. "This is strong art by strong artists, but it risks being sidelined as a Pacific Island show rather than an art show, so how to navigate that is an interesting problem."
Caleb Satele certainly isn't doing frangipani flowers or tapa in his photo collages. Instead, the fourth-year Elam Student is creating ironic "vision boards" to question the chimera of success the capitalist system offers.
Television talk show megastar Oprah Winfrey promoted the use of vision boards, and turned the book about them, Rhonda Byrne's The Secret, into a bestseller.
"Vision boards are supposed to be life-changing. They're a corporate tool that have been turned into a self-help plan. Now if you google vision board there are tens of thousands online as a result of Oprah," Satele says. It's a departure from his earlier photographic work that reconstructed traditional Christian imagery in a camp aesthetic to heighten its kitsch elements, but there are similar devotional elements of faith and prayer.
"I try to use unofficial archetypes for wealth or fame - orchids, exotic animals, caviar. It's trying to show that the capitalist dreams, the self-help message of getting out of the situation you were born into by hard work, is a farce."
This is google art, with Satele using search strings such as "the five most expensive paintings sold at auction", "the 10 most expensive gems", and then putting his compositions together using Photoshop software and a mouse replacing scissors and glue.
"There is still an element of surprise. I will have a concept, then source the images and start putting it together, and not until I execute it will I know if it has failed or not. For one successful vision board I have 50 that didn't work. All had a solid concept, they just didn't work visually. So it's chance."
Satele claims to have never made a legitimate vision board for himself, keeping an ironic distance in his collections of archetypical symbols for wealth and success. But the collage process, which the Surrealists used to bypass conscious choice and tap into the subliminal mind, may well be projecting something beyond the Titirangi bush where he grew up. I ask how his peer group would measure success.
"A nice house says it all. Cars, clothes, usually clothes their parents have bought them. It's clothes and also connections for us, 'oh you know that artist', or at the party, you see who's talking to the important people. I made a vision board about that, with my work showing in the Guggenheim, and it totally failed."
Artists in the show include Diana Aiono and Danielle Dooley (Unitec), Luisa Tora (MIT), John Vea, Darcell Apelu, Claudia Jowitt, Cora Wickliffe and Pilimi Manu (AUT), and Lucy Aukafolau, Chris Ryan, Cordelle Feau, Sione Faletau, Caleb Satele, Salome Tanuvasa and Paipai Fulutusi (Elam).

Exhibition
What: Close to Home, work by 15 Pasifika art students
Where and when: St Paul St Gallery, AUT University, to October 17