Harry Potter and the Mad Man battle addiction in an icy, remote Russian outpost, writes Stephen Jewell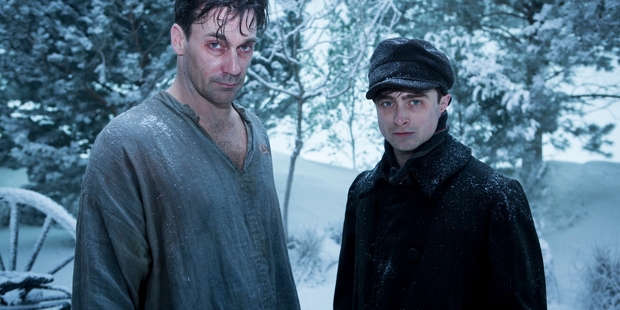 Sitting in a central London hotel suite on an unseasonably freezing spring day, Daniel Radcliffe is reminded of the perpetual winter of his latest television series, A Young Doctor's Notebook. Based on a collection of short stories by renowned author Mikhail Bulgakov, the Sky UK four-parter casts the former Harry Potter as a fresh-faced graduate practitioner who is forced to grow up much too quickly after being sent to a small community hospital in the remote, storm-swept province of Smolensk during the early years of the Russian Revolution.
"It was originally screened over here at Christmas but the only connection it had with the festive season was the amount of snow in it," laughs Radcliffe wryly. "The snow is there to represent isolation, loneliness and the inescapability of the village that he's in. So it did amuse me when they put it on then because it's slightly bleak and definitely very gory."
Indeed, with its unflinching depiction of very brutal medical procedures, A Young Doctor's Notebook would surely make for extremely grim viewing if it were not for the dark vein of satirical humour that runs through it.
"It's pretty graphic in places and without that comedy it would be very hard to watch," says Radcliffe.
"There's a good balance of comedy as the first couple of episodes are really funny and then with the third and fourth, you really start getting a hint of the tragedy that's coming."
However, says Radcliffe, you can get belly laughs out of seemingly dire circumstances. "There's never a situation in life that's so awful that someone is not making a joke about it and doing that can help people survive some awful situations. I'm a sucker for physical comedy but there are also some very subtle nuanced jokes in there as well, which are built around the characters. I think it's a really good mix."
Describing him as "one of the most technically gifted actors I've ever worked with", Radcliffe welcomed the opportunity to lock horns with Mad Men star Jon Hamm, who plays the older incarnation of his character, the naive and soon to be drug-addicted Dr Vladimir Borngard.
"It's such a brilliant device that they came up with as it means that Jon is basically reminiscing about the whole series. That means that you know exactly what is going to happen to him. One of the saddest scenes in it is when I'm going to take the morphine for the first time and Jon asks me not to. There's a kind of inevitability to it, even through Jon's protestations, as you know what the young doctor is going to do."
As a producer on the show, Hamm was charged with recruiting Radcliffe for his first major television appearance since taking on the lead in the BBC's 1999 adaptation of David Copperfield, a memorable performance that brought him to the attention of original Harry Potter director Chris Columbus. After discovering Mikhail Bulgakov's best-known work, The Master and Margarita, and eventually The Country Doctor's Notebook - to give the book its original title - through the joys of Amazon recommendations, he was immediately intrigued by the role.
"I bought a copy and it then sat on my shelf for a year and a half until I met someone who was saying how obsessed they were with it," he recalls. "I thought I'd give it a read and then the same thing happened to me. So when the producers contacted me about doing this project, they had no idea that I was already an obsessed Bulgakov fan. So when Jon came around to my apartment, he thought that he would have to talk me into doing it but I was already willing and ready. He didn't have to convince me."
A Young Doctor's Notebook is screening Saturday nights on Choice TV (Freeview 12 and SKY 026) at 10pm.