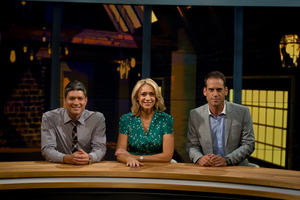 Greg Boyed will leave a big gap on Seven Sharp, according to media commentators, as TVNZ begins the hunt for a replacement.
Boyed announced this week that he would be leaving the weeknight infotainment and current affairs programme tonight, to return to hosting the late news show Tonight.
Media commentator Dr Brian Edwards said he considered Boyed a "serious broadcaster" but was pleasantly surprised by his clever wit, which he said made him the star of the show.
"He's shown himself to have an extraordinary, wonderfully dry wit and makes these beautifully self-deprecating comments about himself.
"I think he will actually be a great loss."
Dr Edwards pointed to Seven Sharp reporter Heather du Plessis-Allan as a possible replacement because she had already performed well in the studio with comedian Jesse Mulligan and the female anchor, Alison Mau.
News and current affairs publicist Nicole Wood said TVNZ was sticking with the three-person format but the position was open to men and women.
"We're going in with an open mind. Whoever is the best fit for the role will get it and they'll get that based on their own credibility."
She said TVNZ was confident of finding someone who would work well with Mau and Mulligan.
The head of the New Zealand School of Broadcasting at the Christchurch Polytechnic Institute of Technology in Christchurch, Tony Simons, said Boyed would need to be replaced with a serious journalist with clout to match his credibility.
"All the serious journalists like myself love to bag programmes like this but in fact I give them some credit for sticking with it, and their ratings are holding up."
Seven Sharp first aired in February this year, adopting a light-hearted approach with more use of social media, to replace the long-running Close Up.
When Seven Sharp began, viewers tuned out, many switching to TV3 rival Campbell Live.
But the most recent figures from Nielsen Television Audience Measurement show viewers have returned to the TV One 7pm slot.
In August, Seven Sharp had its best month since it launched, with an average of 406,000 viewers aged 5-plus watching, compared with 296,000 for Campbell Live.
SHARP CONTENDERS
Possibles:
Jeremy Wells: At home presenting, hosted satirical news show Eating Media Lunch.
Heather du Plessis-Allan: Good field reporter for Seven Sharp, works well in the studio.
Tamati Coffey: Weatherman turned crowd favourite after hosting NZ's Got Talent.
Haydn Jones: Does Good Sorts items for One News, made a pleasant addition to the Good Morning Show.
Wild Cards:
Paul Henry: Likes to be sole charge.
Steve Braunias: Currently editor in residence at Wintec in Hamilton.
Brodie Kane: South Island reporter for Seven Sharp, a serious journo but not high-profile yet.
Kylie Bax: Might be a drawcard but has no journalistic background.