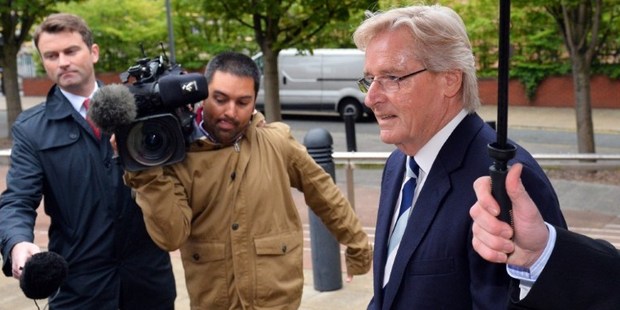 William Roache, a star of Britain's long-running "Coronation Street" soap opera, pleaded not guilty in court to raping a 15-year-old girl and indecently assaulting four other teens in the 1960s.
The 81-year-old actor has been on bail since his arrest at his home in Cheshire, northwest England, in May and he was released on bail once again to await his trial starting on January 14.
Roache is a household name in Britain, where he has played the character Ken Barlow since the first episode of "Corrie" aired in 1960. He was taken off air following his arrest.
He was initially charged under a police investigation into historic sex abuse sparked by the revelations against late BBC presenter Jimmy Savile, now considered one of Britain's most prolific sex offenders.
Roache first faced two counts of raping the unnamed 15-year-old girl in 1967, and later prosecutors added five counts of indecent assault between 1965 and 1968 involving four girls aged between 11 or 12 and 16.
At a hearing at Preston Crown Court in northwest England on Monday morning, Roache responded to each allegation with a firm answer of "not guilty".
Guinness World Records lists "Coronation Street", which portrays life in a fictional part of Manchester, northwest England, as the longest-running soap opera, and Roache the longest serving soap actor in the world.
- AFP