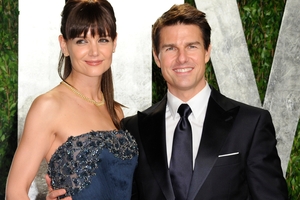 A former Scientologist has claimed she was one of several women "auditioned" as a potential wife for the actor and Scientology stalwart Tom Cruise before he married actress Katie Holmes.
In an article published in the Woman's Day magazine and The Underground Bunker, a blog about Scientology, Anette Iren Johansen claimed the audition took place in Copenhagen in 2005.
Ms Johansen joined the church in 2002 and appeared in a handful of Scientology magazines and training films.
In January 2005, she claims, she was invited to audition for another project. There was no script.
"They asked me so many questions about my life, my family background, everything I'd ever done in Scientology," she said.
Ms Johansen, then 27, was ordered to agree to a waiver promising not to talk about the audition.
A fortnight later, she said, a man at Golden Era Productions in California called to ask a string of private questions, including whether she had any "sexual perversions".
She left Scientology in 2010 and has blogged about her experiences, including what she describes as "terrible abuses committed within the church".
Another former Scientologist, Marc Headley, claimed to have seen highlights of the women's auditions. He said the interview "was for Tom Cruise, absolutely. Those are the exact same questions that they were asking the other girls".
Last year, a Vanity Fair piece alleged that the Persian-British actress Nazanin Boniadi had been similarly "auditioned". The Church of Scientology has denied the accusations.
- The Independent