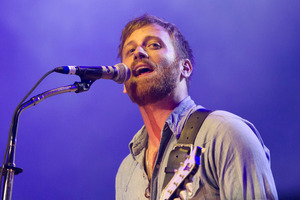 Dan Auerbach's wife received 'Bob Dylan's hair' in their divorce.
The Black Keys guitarist and his spouse Stephanie Gonis finally reached an agreement in their bitter divorce earlier this week.
Gonis received more than five million dollars, the couple's 2012 Toyota Highlander and one of the family homes along with a mysterious item listed as 'Bob Dylan's hair', according to TMZ.
Reports of their split first surfaced at the Grammy Awards in Los Angeles in February and sources close to the pair revealed they had parted ways.
A source said: "Dan's wife wasn't there [at the ceremony] because they are going through a divorce. The split is unfortunate."
Auerbach, 33 - who has a five-year-old daughter Sadie Little with Stephanie - also walked the red carpet without his wedding band.
The divorce grew increasingly ugly with Auerbach previously claiming Gonis had tried to commit suicide twice in one day, once in front of their daughter and later by starting a fire that could have destroyed their house.
The guitarist has custody of Sadie while Gonis was granted supervised visits.
- Bang! Showbiz