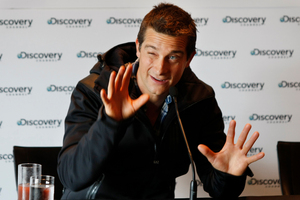 Television adventurer Bear Grylls is being investigated by his local council after he erected a slide on an island which he owns.
On Monday Grylls posted a picture on Twitter of the steep metal slide he had attached to the cliffside on St Tudwal's Island West, off Abersoch in Gwynedd, North Wales.
He posted a caption alongside the picture, saying: "New slide attached at home on our island! You hit the water very fast "
But the announcement sparked safety concerns from Gwynedd Council, which has now announced it will launch an investigation into the slide.
It is understood the slide was built for Grylls' family to use and can only be used for a couple of hours each day, when the tide is in.
The island is designated as an area of outstanding natural beauty.
"Officers from the council's Planning Service are investigating this case and will be discussing the matter with the site owner," a Gwynedd Council spokesman said.
Last month Grylls submitted a planning application to build a new £580,000 harbour on the island, which it is said will provide safe access to St Tudwal's West.
Edward "Bear" Grylls, who has climbed Everest, journeyed through Antarctica and grappled with venomous snakes and crocodiles, has cemented a reputation as one of the world's foremost adventurers in TV series Born Survivor, airing on the Discovery Channel as Man Vs Wild.
He bought the island in 2001 for £95,000.
He, his wife Shara and their three sons, split their time between the island and their other home, a Dutch barge in London.
- PAA