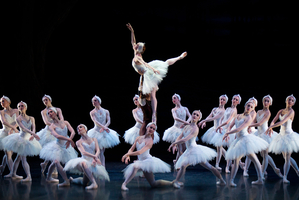 Principal guest artist Gillian Murphy as Odette soars high in the Royal New Zealand Ballet's season of Swan Lake which wowed fans at Auckland's Civic Theatre last night.
Choreographer Russell Kerr's take on the famed story of love and tragedy has been showing around New Zealand since last month, with the support of the New Zealand Symphony Orchestra, the Christchurch Symphony Orchestra and the Auckland Philharmonia Orchestra.
The 160-minute show is celebrating the company's 60th anniversary and has been well received by audiences and critics.
Tchaikovsky's lush and sweeping score and Kristian Fredrikson's opulent designs were on show at the Bruce Mason Centre last weekend and will be at the Civic Theatre until Sunday. Early shows in Wellington, Christchurch and Invercargill sold out.
Swan Lake will travel to Palmerston North next week, before closing in Napier on September 1.