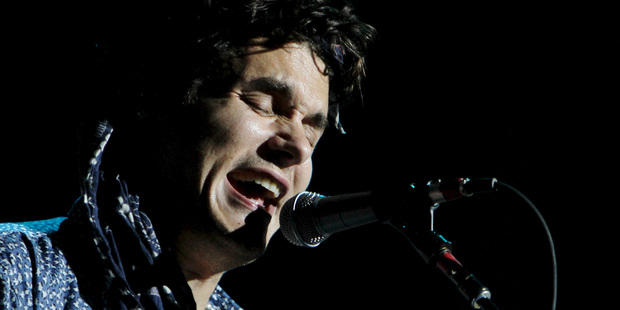 Recently reconciled twosome Katy Perry and John Mayer aren't just collaborating romantically - they're also making sweet music together.
The on-again, off-again couple has teamed up to recorded a duet, Who You Love, a track that appears on Mayer's upcoming sixth studio album, Paradise Valley, which drops later this month.
In the country-tinged mid-tempo track, Mayer, 35, croons: "My girl, she ain't the one that I saw coming / sometimes I don't know which way to go / and I tried to run before but I'm not running anymore / 'cause I fought against it hard enough to know / that you love who you love who you love / you can't make yourself stop dreaming of who you're dreaming of / if it's who you love, then it's who you love."
Perry, whose new single Roar leaked this week ahead of schedule, then responds with a verse hinting at Mayer's bad-boy rep, and the couple's bumpy romance.
"My boy he ain't the one that I saw coming / and some have said his heart's too hard to hold / and it takes a little time / but you should see him when he shines / 'cause you never want to let that feeling go / when you love who you love who you love," Perry, 28, sings.
Near the end of the song, Perry lets rip with a cutesy giggle, which she addressed and explained while debuting the track on US radio this week.
"Did he tickle you or did you mess up?" probed SiriusXM Hits 1 host Nicole Biggins during a confab with the songbird.
"I think that's just a love giggle," Perry explained. "It's like the ones that Mariah Carey had in 1990 and stuff like that. Yeah I think I was going for that, I think I was just so happy, I love that song. You guys will hear it soon, all you listeners."
The singer added, "It's very humanising. It's like the real moment, you're catching the real moment there."
'I STILL AM MADLY IN LOVE WITH HIM'
Mayer and Perry began seeing one another in August of 2012, and made their photographic debut as a couple after they were papped en route to Chateau Marmont while on a romantic date night.
Just a few weeks later, the romance was rumoured to have hit the skids. But they patched things up; only to call it quits again in March.
"I was madly in love with him. I still am madly in love with him. All I can say about that relationship is that he's got a beautiful mind," Perry, who split from ex-hubby Russell Brand in 2011, dished in the July edition of US Vogue. "Beautiful mind, tortured soul. I do have to figure out why I am attracted to these broken birds."
Perry told the September issue of ELLE UK: "He [Mayer] pulled away. That was a big hello for me. I realised I could lose the person I loved and I had to deal with some things, issues I think a lot of women have. You can be strong in one aspect of your life but submissive in another."
But by June, the pair had rekindled their romance.
In July, Mayer gushed about his love for Perry, and dedicated a song to her on the opening night of his Born and Raised World Tour in Milwaukee.
Mayer told the crowd he was grateful Perry had taken the time "to get to know me and love me" after he underwent surgery to remove a granuloma near his vocal cords.
Take a listen to the couple's duet below:
Meanwhile, it'll soon be bridal gowns, bouquets and confetti cannons for Perry and Mayer, according to the Daily Mail.
Per the outlet, Mayer is "planning to pop the question" to Perry.
Aye, it's suspension of disbelief time. Truckload of salt at the ready, folks ...
"Mayer is a renowned ladies' man who has dated some of Hollywood's most beautiful women, including Jennifer Aniston," notes the Mail, while adding that Perry "has made him a different man".
Chimes a source: "She's changed his life for ever. This is the most serious John has been about anyone and he wants to make it official."
Imparted another source: "Their romance is so strong - so it shouldn't be too long before he gets down on one knee."
But don't go popping any Champagne corks over the outlet's so-called clairvoyance that a proposal is on the cards. A source tells Gossip Cop that the engagement talk is "completely premature".
NOTABLE NUGGETS
And finally ...
* "I don't know why someone as great as her would cannibalise me on TV" - Oprah Winfrey racism story is untrue, says sales assistant at the centre of handbag row.
* Missing: Lady Gaga's wardrobe, and all of her pants.
* Pop matriarch Madonna gets down with the kids and invests in a set of diamond encrusted grills. No Madge, just no.
* REM could release fan club singles "for charity".
* Jennifer Aniston likes nothing better than addressing those pregnancy and wedding rumours. No, really.
* Eleven more reasons to love Jennifer Lawrence.
* Scrap that: Jennifer Lopez is "absolutely not" Simon Cowell's messenger mule.
* Prick up your ears, Thor fans! Natalie Portman spills on the possibility of making a third film.
* "Make the mean witch stop talking to me" - Angelina Jolie made children "scream and run off" when in Maleficent garb.
* Kanye West reportedly slashes asking price of Hollywood home by half a million dollars.
* Adele up for cameo in Matthew Vaughn's The Secret Service, report claims.
* Lady Gaga and Cher's The Greatest duet leaks all over the floor of the internet. Cher is not amused.
- Rumour Has It