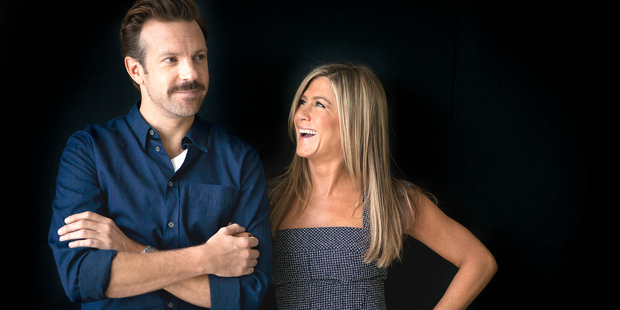 In We're the Millers, Jason Sudeikis plays David Miller, a drug dealer trying to smuggle pot past the Mexican border by pulling together a fake wife (Jennifer Aniston) and kids in an attempt to disguise themselves as a family taking a summer road trip.
In reality, Sudeikis admits getting goods past the law is something he is well-versed in.
"I wasn't the straightest arrow as a kid," he tells Living. "I did a fair amount of smuggling things out of stores. I started with candy, then went onto compact discs.
There was also a Roger Rabbit plush doll, BB guns - anything I wanted that my parents wouldn't allow me to have or that I didn't have money for."
The day he got busted thieving CDs at the age of 16 was the day Sudeikis' stealing spree ended. Luckily something else from his childhood stuck with him for the better - his Uncle George Wendt, best known as Norm from Cheers. Watching Wendt carve out a career in showbiz inspired Kansas City-raised Sudeikis to pursue his own dreams.
"Having someone in your family find success taking the road less-travelled - not going to school and going into this business - definitely made it easier for the family to support me," he says. "They could see that it actually works out - that someone from Chicago can do this for a living and at the same time remain a kind, family man."
Family is the theme in We're The Millers, which sees Sudeikis teaming up with Aniston for the third time - a huge draw card for Aniston, who also worked with Sudeikis in Bounty Hunter and Horrible Bosses.
"It was a very original idea, funny beyond words and a good, fun part to play - and with Jason," says Aniston, who plays stripper Rose. "This is our third movie together. We're a package deal now!"
While it's 44-year-old Aniston's steamy strip dance which has become the most talked-about scene in the film, Sudeikis, 37, says it's exploring the idea of what makes a modern family which will resonate with viewers.
"Family isn't as easy as conception anymore. The idea of a nuclear family is changing almost on an hourly basis, so it was interesting to explore that.
"And I really liked David's journey from a guy who is ambivalent towards people and ambition, to then desire to be around people and choose this family - for ill-gotten reasons yes, but it ends up being what he wanted the whole time. I thought that was sweet, sincere and emotionally-plausible to have someone go from not needing people to realising we all do."
Sudeikis says he went through a similar journey himself while falling in love with actress fiancee Olivia Wilde. The couple have already put their relationship to the test by taking their own big road trip together.
"We drove up PCH to Big Sur and stopped for tacos and met another couple who were so surprised that we were still talking. We travel great together. No fights!"
While Sudeikis admits he is still adjusting to the paparazzi appeal which comes with being part of a famous couple, Aniston - also preparing to wed actor/director Justin Theroux - is well-accustomed to the lifestyle.
Pondering whether she has specialised in comedy to balance out the dramatic tabloid fodder of her own life, she pauses.
"I just love making people laugh. And comedies are more fun, honestly. I just completed a dramatic piece called Life of Crime, so it's really about what parts come to me, but I do gravitate towards comedies because they feel good.
"As for the tabloid life, I don't think I choose roles [based on that]. I just try to do my job, do it well ... and drown out that stupid noise."


We're The Millers opens on Thursday.