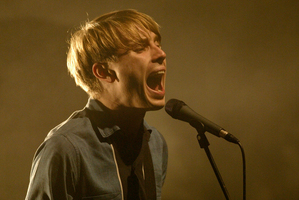 Franz Ferdinand rocker Alex Kapranos required medical attention backstage at a music festival in Hungary after suffering an allergic reaction just hours before the British band was due onstage.
The Cribs singer Ryan Jarman revealed the health scare to fans at Budapest's Sziget Festival on Sunday, where both groups were performing.
Jarman said his pal was "on his death bed backstage following a peanut incident".
A festival spokesperson confirmed the emergency, admitting that Kapranos had been knocked out for at least an hour after receiving two injections to combat the nut allergy, reports NME.com.
However, the Franz Ferdinand frontman proved he was ever the professional by taking to the stage right on time for his band's scheduled set, which included renditions of their tracks No You Girls, Right Action and Dark of the Matinee.
- WENN