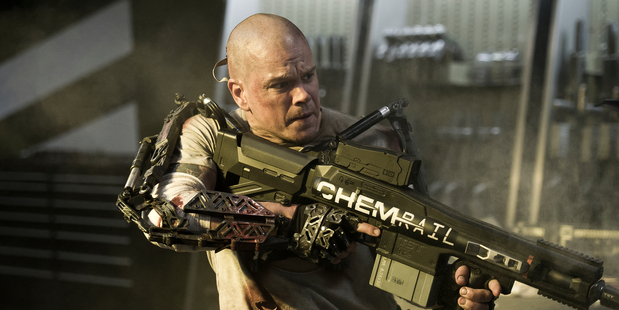 Science-fiction thriller Elysium took top spot in the North American box-office this weekend, beating out competition from raunchy Jennifer Aniston comedy We're The Millers, estimates showed.
Starring Matt Damon and Jodie Foster, Elysium is set in a dystopian future where the poor have been left to inhabit a ruined Earth while the rich live on a luxurious space station.
The movie, written and directed by South African filmmaker Neil Blomkamp (District 9), earned US$30.5 million (NZ$38m) in its opening three days, estimated figures from box-office tracker Exhibitor Relations showed.
Reviews for the film have been mixed, with a 65 per cent approval rating on Rotten Tomatoes, and 60 per cent on Metacritic.
Critics said Elysium's action set pieces were well executed and the film looked amazing, but it was let down by plot cliches and some cheesy dialogue towards the end.
"A cautionary tale about the dangers of squandering resources that wastes its own talent," wrote Globe and Mail reviewer Adam Nayman, while the Washington Post's Ann Hornaday said it could be "lofty one moment and gleefully pulpy the next".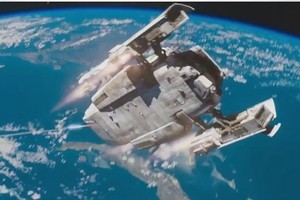 In second place was Aniston's R-rated comedy We're The Millers, which stars the former Friends actress and Jason Sudeikis in a romp about a bogus family attempting to smuggle drugs into the United States from Mexico.
The film took $26.6 million over the three-day weekend, placing it just ahead of Disney's latest animated offering Planes.
An effective spin-off of the hugely successful Cars franchise, Planes took $22.5 million to place third.
Fourth place was occupied by another debutant, Percy Jackson: Sea of Monsters, the latest adaptation based on the book series by Rick Riordan about a schoolboy who is in fact the son of the Greek god of the sea, Poseidon. The film took $14.6 million.
Last week's number one, the Denzel Washington-Mark Wahlberg action comedy 2 Guns earned $11.1 million this weekend.
Sony's animated sequel The Smurfs 2 was in sixth spot with $9.5 million, just ahead of Hugh Jackman's comic-book based blockbuster The Wolverine. The latest big-screen adaptation to feature the claw-fingered X-Men character added another $8 million in its third week on release.
In eighth place was horror film The Conjuring, the low-budget shocker which took $6.7 million. So far the movie has earned $120.7 million in four weeks, a phenomenal return for a film which cost a relatively modest $20 million to make.
Animated children's comedy Despicable Me 2 was ninth with $7.4 million, as another sequel Grown Ups 2 took 10th.
Rounding out the top 12 were Woody Allen's acclaimed drama Blue Jasmine, with $2.5 million and animated children's flick Turbo with $2.3 million.
- AP