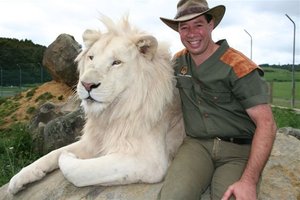 "Lion Man" Craig Busch's TV comeback has angered his estranged mother and the owner of a South African game park who says the Kiwi owes him thousands of dollars.
Animal Planet plans to screen The Lion Man: One World African Safari, in which Busch helps to track down poachers and fight bushfires.
But mother Patricia - who's had battles with her son over ownership of Northland's Zion Wildlife Park and aspects of the Lion Man brand - says she's considering legal action to stop One World African Safari screening in New Zealand, although she accepts it will be an uphill battle. "I suppose Animal Planet will air it wherever they choose."
The owner of the Rhino and Lion Reserve near Johannesburg, Ed Hern, has filed a court claim to footage filmed on his land. He said he collaborated with Busch on tackling rhino poaching. Busch supplied the camera crew, Hern a helicopter.
He said he was owed $6,000 and he hadn't heard from Busch in at least six months.
"I want my footage on all the rhino stuff he's taken at the reserve."
Hern said he had also contacted local police - who couldn't track Busch down - and Animal Channel's parent company, which had yet to respond to his concerns.
Craig Busch's spokeswoman Jill Albrow said there were no plans to show the series in New Zealand. She said Patricia's claims to the Lion Man brand were unsubstantiated.
"These matters are unproven and part of an unfortunate ongoing family feud and vendetta lodged by ... Patricia Busch."