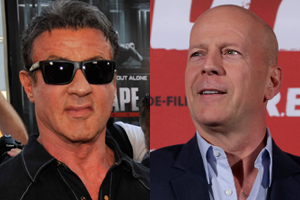 They are action-hero veterans and business partners who once joined forces to flog burgers through their Planet Hollywood chain.
But now Sylvester Stallone has branded his fellow ageing film star Bruce Willis lazy and a failure, after the Die Hard actor departed from the lucrative Expendables franchise.
Willis had been in negotiations to reprise his role as the CIA agent Mr Church in the third instalment of The Expendables, Stallone's all-star throwback to the 1980s action movies, which the Rambo star once dominated at the box office.
But Stallone, 67, announced via Twitter, with some glee, that Willis, 58, would now not be returning: WILLIS OUT HARRISON FORD IN !!!! GREAT NEWS !!!!! Been waiting years for this!!!! Stallone appeared to twist the knife by telling the world that his former screen partner in the first two Expendables was, indeed, expendable. GREEDY AND LAZY ... A SURE FORMULA FOR CAREER FAILURE, he tweeted moments later.
A spokesman for Stallone, who co-wrote and directed the first outing of The Expendables in 2010, confirmed the actor had been talking about his old colleague but refused to comment further. Willis has yet to respond.
Relations have soured between Stallone and Willis since the pair, with fellow action star Arnold Schwarzenegger, launched the Planet Hollywood restaurant chain in 1991.
In leaving The Expendables, Willis is walking away from a franchise that has taken a combined US$574 million ($721 million) at the global box office. Willis, who blamed a grouchy recent appearance on the BBC's The One Show on jet lag, may not have forgiven Stallone after it became apparent that he was only the third choice for the role of Mr Church, who hires the film's eponymous band of muscle-bound mercenaries, led by Stallone's Barney Ross, to carry out missions.
Schwarzenegger was initially offered the role of Mr Church but upgraded instead to the fellow mercenary leader Trench. Kurt Russell then turned it down before Stallone, seeking a big action name, remembered his old pal Willis, who accepted after being granted a scene alongside both Stallone and Schwarzenegger.
It is not known whether Ford will take over the role of Mr Church or be given a new character. At 71, Ford remains as busy as ever and is also due to star in the forthcoming films Anchorman: The Legend Continues, Star Wars: Episode VII and Indiana Jones 5.
Production on The Expendables 3 is set to begin this month for a 2014 release. The film is expected to feature Jackie Chan, Wesley Snipes and Nicolas Cage, with Mel Gibson also tipped for a role. The series has featured Mickey Rourke and Dolph Lundgren.
- Independent