Williams rocks and Dan Carter is behind our favourite band.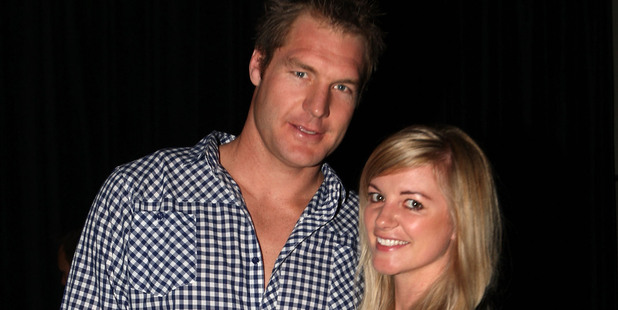 As they prepare for a move to France, former All Black Ali Williams and his wife Casey tell The Diary they are accepting "why-not challenges", including becoming a radio sports reader and learning a new language via apps.
"Ali was planning to retire from rugby and stay in New Zealand," Casey says. "We weren't looking at moving overseas. Then this offer came up, and we thought why not. We're calling this our bonus year."
Williams has signed a one-year deal with French club Toulon. The couple, and their 4-month-old daughter Jessica, will depart (their two dogs are staying here with friends) after Ali's eight-week stint as the Morning Rumble sportscaster on The Rock radio station.
He'll no doubt welcome the change. Hosts Bryce Casey, Roger Farrelly and Leah Panapa have put the veteran rugby star through his paces since he hit the airwaves bright and early on Monday. There was the topless haka Williams was forced to perform on Jervois Rd in front of passing motorists.
And the begging for free coffees at a nearby cafe.
"It's clear to see the regret on Ali's face at 5am every morning," Bryce chortled.
"It's probably the worst tight-five he's ever been in. It makes last year's Blues season look like a picnic," Roger laughed.
"Nothing is off limits," said Leah.
Escaping to the South of France for a 12-month rugby contract is bound to be less awkward. However, the Williams' are yet to find a house.
"Ali went up there for a week looking at places, but didn't find one," says Casey.
They want a big home with wheelchair access so his father, Rodney, can visit.
"But I won't be sipping rose by the pool every day!" Casey laughs.
Her fitness and wellbeing company, Body Beautiful, will continue to operate here, and the mother-of-one will launch online fitness classes.
She says she'll learn French from an iPhone application and may even go back to school.
"There is a university nearby in Toulon and a lot of the wives and girlfriends [of the players] study there, so I might as well, too."
Carter plays from bench
The C-City Brothers launched their single Never Walk Away on Monday, in aid of the Cystic Fibrosis Association, and skyrocketed to the top of the iTunes charts.
Injured All Black Dan Carter is behind our favourite boy band - comprised of rugby players Andy Ellis, Israel Dagg, Robbie Fruen, Telusa Veainu and Willi Heinz. But asked if he was managing the group, Carter told The Diary his support stems from the bench.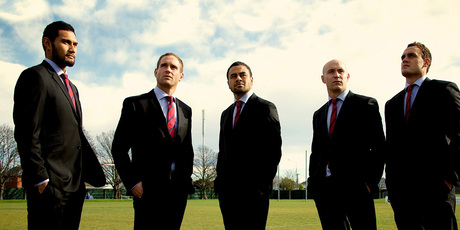 "I wouldn't call myself a manager, but it's a great cause and I'm happy to help the boys out. I'm a huge music fan and I'm really proud of the guys."
So, why didn't he feature on the track alongside his Crusaders teammates?
"Ah, that's simple really ... I can't sing!" Carter didn't make the grade. He was boy band unfit.
Humming lullabies to baby Marco or "jamming to Flume on daddy daycare duty" is apparently the extent of his singing prowess.
Mike's infant formula
On the subject of Fonterra's baby formula debacle, how ironic that the Prime Minister was interviewed by Newstalk's Mike Hosking on Monday about the gravity of the situation when, right in the middle, the radio host let out a modest burp. A baby belch.
A recording has been doing the rounds to much mirth in the media.
This story has legs
She's young, she's leggy and she's blonde. The new giraffe at Auckland Zoo has captured our hearts and keepers say they will choose an African name for the newborn next week. Keeping in mind a certain princess with a penchant for rugby players, may we suggest "Charlene".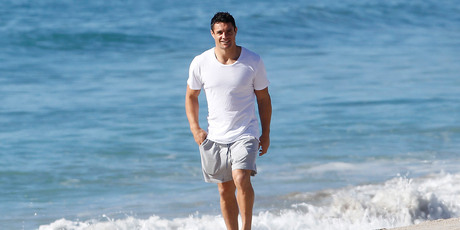 MP gets lowdown on NZ
Quite what Britain's Speaker of the House of Commons, the Rt Hon John Bercow MP, makes of our political shenanigans is anyone's guess. He is visiting Auckland, Wellington and Hamilton this week as a guest of the Government.
Rave review for solo show
Michael Hurst is the toast of the Edinburgh Fringe Festival. His solo show, No Holds Bard, received a five-star review on opening night and co-producer Charlie McDermott (named Hynds Creative Entrepreneur last week at the Art Venture Awards) says the rapport has been positive. "Show number two down and the audience doubled. Great reactions."
The play runs until August 26.