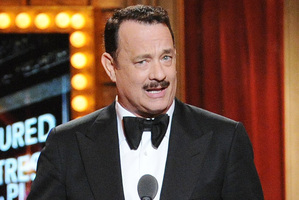 Tom Hanks has an unusual hobby and he has written about it in a column for the New York Times.
The actor has collected more than 100 different typewriters, and his obsession prompts him to scour the world for rare models.
The Forrest Gump star says he uses a vintage manual typewriter "almost every day" to put together "snail-mail letters and thank-you notes, office memos and to-do lists" and he only uses a computer for "real work... documents with requirements equal to a college term paper".
In his article, Hanks goes on to describe his favourite types of machine and the pleasure he receives from the sound of the keys - "the mini-explosions of shook shook shook" - and he encourages fans to buy a typewriter of their own.
He adds, "No one throws away typewritten letters, because they are pieces of graphic art with a singularity equal to your fingerprints, for no two manual typewriters print precisely the same...
"There is no reason to own hundreds of old typewriters other than the sin of misguided avarice (guilty!). Most can be had for 50 bucks unless, say, Hemingway or Woody Allen typed on them. Just one will last generations - if it is cleaned and oiled every once in a while. The ribbons are easy to find on eBay... Come to think of it, I'd better start hoarding stationery and pray the post office survives."
- WENN