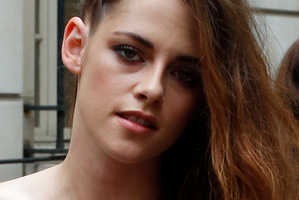 Video footage of Kristen Stewart lashing out at a paparazzo, calling the snapper a "piece of s***," has been posted online.
The actress was fuming when approached by a photographer while on a lunch break from filming her forthcoming film Camp X-Ray, according to entertainment and celebrity news website x17online.com.
A 25-second video posted on the photo agency's website shows Stewart walking away from an unnamed paparazzo as he eggs her on.
Asked why she told the man to go away, Stewart gives a heated response.
"Because you're a piece of s***. You don't deserve to breathe the same air I do," she said.
Stewart is then seen getting into a car with a female companion.
According to X17, she then called the photographer a "f*** face" as he asked about the status of her relationship with Robert Pattinson.
Twilight stars Stewart and Pattinson split in May after failing to move on from Stewart's infidelity last year.
- Cover Media