Today's Big Day Out announcement will confirm next year's headliners as two of the biggest bands of the 90s - Pearl Jam and Blur, bands who first emerged as major label acts but who both turned their back on their early success. Scott Kara looks at their respective histories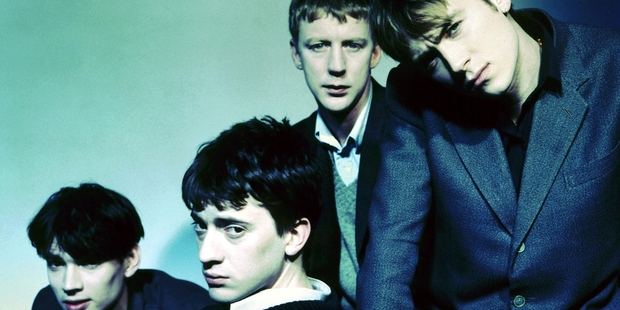 BLUR, FORMED LONDON, 1988
Damon Albarn, keyboards, vocals
Graham Coxon, guitars, vocals Alex James, bass
Dave Rowntree, drums
In the beginning... Before Oasis and Blur battled it out for the Britpop crown, and the working class Gallagher brothers traded venomous and often nasty verbal shots with the London art school lads, childhood friends Damon Albarn and Graham Coxon bonded over a love of music. While attending London's Goldsmiths College in 1988, they met bass player Alex James. And with drummer Dave Rowntree on board they started a band called Seymour - after Catcher in the Rye author J.D. Salinger's Seymour: An Introduction. Once signed to Food Records, they changed their name to Blur, started touring, and released first single, She's So High. With its gentle clash of guitars and Albarn's sweet, melancholic vocals it was moderately successful, but second single, the more swingin' and dancey There's No Other Way, was a hit and broke into the top 10.
Debut album: Leisure, released August, 1991. Influenced by the dominant Manchester scene and shoegazer bands of the time, the album was hardly trademark Blur - There's No Other Way is almost more Stone Roses than the Stone Roses - but the haunting plod and moody piano-driven mantra of Sing (which also appeared on the Trainspotting soundtrack) was a sign of things to come.
Britpop era: With a trio of classic British albums - Modern Life Is Rubbish (1993), Parklife (1994), and The Great Escape (1995) - Blur became one of the leaders of the Britpop movement along with Oasis and, to a lesser extent, bands like Pulp, the Verve and Elastica (fronted by Albarn's former girlfriend, Justine Frischmann).
Now taking more influence from bands like the Kinks and the Beatles, Parklife was Blur at their pinnacle. It was punky on Bank Holiday, dulcet on Bad Head, and included soon-to-be seminal British songs like the title track and the posturing dance rock of Girls and Boys. The Great Escape was more zany, with the "nah nah nahs" of Charmless Man and the oddball honky tonk of Country House, but on The Universal - perhaps the band's most beautiful song along with Tender from 1999's 13 - they warned "the future's been sold".
Success: Those three albums made Blur, and Albarn especially, British national treasures. But similar to Eddie Vedder and Kurt Cobain on the grunge scene, success was an uneasy fit. Even though Albarn admitted in an interview with Q magazine in 2007 that he wanted to be in the biggest band in the world, it turned "sour" after Parklife when the competition with Oasis kicked in.
Rivalry: From the outside at least, the feud between Blur and Oasis was about domination and ego. Oh, and mostly a battle fired up by the British music media which suited Liam and Noel Gallagher's penchant for lippy banter. The rivalry came to a head in 1995 when Blur released The Great Escape and Oasis (What's the Story) Morning Glory? While Country House won the battle for No. 1 on the British singles chart up against Roll With It (both were released on the same day), Oasis's album was a worldwide smash, meaning Blur and Albarn found themselves on the outer.
"The whole Oasis thing was ... wasn't very nice," Albarn told Q magazine in 2007. "It felt like I had six months where I was really f***ing cool, and then I'd f***ed up and I was uncool again. It was like being back at school and being bullied again."
These days Noel Gallagher and Albarn are best mates. Well, that's what Alex James reckons. "They go off and smoke cigars together. I think we realised we were all on the same side eventually," NME reported him as saying last week.
It was Blur who won in the end though, with Oasis going into decline after Morning Glory, whereas Blur, despite tensions between Coxon and the rest of the band, underwent a mini reinvention and recorded three more solid albums.
New directions: Blur (1997)
The influence of American indie rock bands like Pavement and Dinosaur Jr. took hold, especially on Coxon, and inspired first single Beetlebum and the raucous Song 2. The latter, with its wild "woo-hoo" chorus, was the band's breakthrough hit in America and the reason why earlier this year they still had the pulling power to headline three-day US festival Coachella.
They also toured New Zealand in 1997 playing the North Shore Events Centre on October 24, opening with Beetlebum and ending their six-song encore with Song 2.
13 (1999)
It was another change in sound, with gospel influences coming through and electronic boffin William Orbit producing. It was also lyrically Albarn's most personal and revealing record with songs like Tender and No Distance Left to Run about his break-up with Frischmann.
Coxon leaves: Following 13 Coxon released three solo albums and Albarn released the first Gorillaz album. During recording sessions for Blur's last album, Think Tank, Coxon decided to leave the band in mid-2002. He needed a break. The political agitating of Think Tank had an exotic electronic sound and was a nod to Albarn's growing interest in African music.
Reunion: Rumours of a Blur reunion were constant. As Albarn said in Q magazine: "They [the press] know more about it than I do."
It finally happened in December 2008 when the band announced they would play reunion shows at London's Hyde Park in July. They also played Glastonbury in June and a series of smaller shows, including at their old stomping ground Goldsmiths College.
Recent reviews: Blur played at the Primavera Sound Festival in Barcelona in May, which was the first of many summer festival appearances. "Playing a greatest hits gig that sets the party vibe with opener Girls and Boys, they take us back to their 90s heyday with infectious energy," wrote The Independent. "Albarn cuts a youthful figure as he leaps about the stage like a teenager letting off steam, conducting Dave Rowntree to crank up the drums, while Graham Coxon hunches zealously over his guitar, contributing urgent backing vocals. Only the black-clad Alex James postures serenely."
Without Blur: We wouldn't have Gorillaz, the Good the Band and the Queen (Albarn's band with Afrobeat great Tony Allen, Clash bass player Paul Simonon, and former Verve member Simon Tong), some inspired African music (check out Albarn's Mali Music from 2002), the Chinese opera, Monkey: Journey to the West, Rocket Juice and the Moon (with Flea from the Chili Peppers and Allen), Nathan Haines' cover of Steely Dan's FM (featuring Albarn in his Gorillaz alias, 2D), Coxon's many - often exhausting - solo albums, which at last count numbered eight with the release of A&E last year, and the renaissance of Bobby Womack whose 2012 album The Bravest Man in the Universe was produced by Albarn.
Phew.
What: The Big Day Out
Where and when: Western Springs, Friday January 17
Follow @nzherald_ent on Twitter for all the latest entertainment news.
- TimeOut