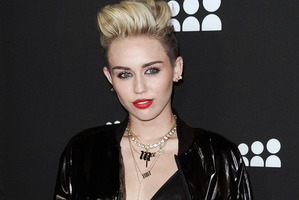 Miley Cyrus thinks karma has been kind to her.
The 'We Can't Stop' singer is a firm believer in the saying 'what goes around comes around' and thinks she must have been a saint in her past life because she has been so lucky in this one.
Speaking on British TV show 'Daybreak' on ITV, she said: "I've been lucky because the universe has done something right for me, karmically it's always been really good to me. I must have done something right in my past life.
"Personally I believe in karma because I've seen it bite so many people."
The 20-year-old starlet also claims her ability to remain humble and gracious at all times is the reason karma keeps treating her well and she hasn't faded into showbiz obscurity or experienced the pitfalls of fame like so many others.
Miley said: "You always treat people with respect and be gracious. You make music because you love it and you don't make it for any self-absorbed reasons, and you treat the people that you're working with with respect and you work really hard.
"That's why I've been able to have longevity rather than just having hits because karmically it makes sense."
However, Miley isn't a fan of the constant media attention surrounding her and says the paparazzi have "ruined" her trip to the UK.
Discussing her British fans, she said: "I feel like just 'cause I don't get to come here that often, when I'm here it becomes a really big event. They're crazy, I love it. I hate that the paparazzi has kind of ruined the trip.
"I was outside trying to take a bunch of photos with fans and it got hard just because I'm never around. It's like mayhem when I'm here."
- BANG! Showbiz