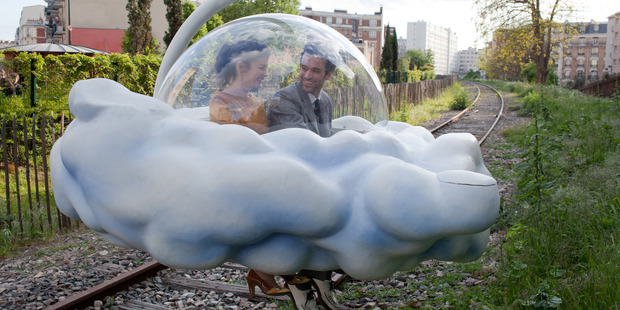 French film Mood Indigo (L'écume des jours) is like something out of a dream, with the same fantastically strange vibe as, director Michel Gondry's 2004 film, Eternal Sunshine of the Spotless Mind, a thousand times over.
Based on the 1947 novel Froth on the Daydream by Boris Vian, Mood Indigo is the story of handsome, wealthy man Colin (Romain Duris), and his whirlwind romance with the beautiful Chloe (Audrey Tautou).
Colin and Chloe meet at a party in Paris, fall in love quickly and before long decide to marry.
However things are not as rosy as they first appear. The love story soon turns into a tragedy when Chloe becomes deathly sick, due to a water lily growing inside her lung.
The only cure for Chloe's illness is for her to be surrounded by flowers.
The film starts out light hearted, colourful and comically absurd. Yet as the film progresses, the bubble-gum world becomes interrupted by moments that teeter on horror (such as a disturbing and unexpected scene where Colin happily cuts off his own eyelids).
As Colin and Chloe's situation worsens, so does the environment around them. The once bright colours fade to black and white, homes decay, even characters age dramatically. The film turns from a dream into a nightmare.
Mood Indigo is visually stunning, with an amazing use of colour, costumes, sets, projections and stop motion to propel the narrative.
The nonsensical and surreal journey you are taken on will have you questioning what you just saw, yet at the heart of the film is a story of love and despair that translates across all languages.
Stars: 3/5
Director: Michel Gondry
Cast: Romain Duris, Audrey Tautou, Omar Sky
Running Time: 125 min
Rating: M
* For more showings of Mood Indigo check out nziff.co.nz
Follow @nzherald_ent on Twitter for up-to-the-minute entertainment news, videos and reviews.