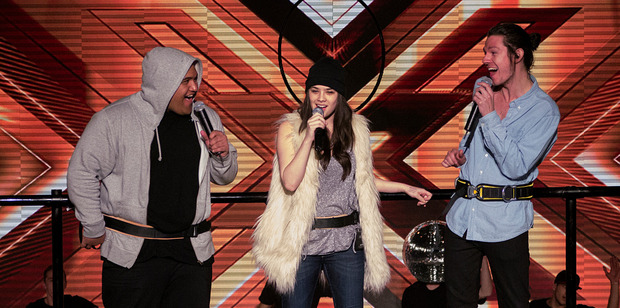 The X Factor NZ is the most talked about show in TV3's history - but still trails behind TVNZ rival New Zealand's Got Talent in the ratings.
The talent series has been a hit for TV3 since it launched to an audience of more than one million in April. But it lagged behind the 1.4 million viewers for the debut episode of New Zealand's Got Talent last September.
Social media and online engagement sets X Factor apart - the Facebook community has 109,000 fans, and up to 70,000 people post and check in regularly. Every episode trends on Twitter in New Zealand, and #xfactornz has been the top worldwide topic multiple times. Online, the fanzone at tv3.co.nz has had 6.3 million page impressions.
MediaWorks TV chief executive Paul Maher said audience engagement was a key measure of success: "(The show's) success across the board shows the power of MediaWorks' broader assets."
Meanwhile, judge Ruby Frost admits she's sick of the talk from fellow X Factor judge Daniel Bedingfield. Frost is mentoring two acts in tonight's final performances - Benny Tipene and Whenua Patuwai - against Bedingfield's protege Jackie Thomas.
Bedingfield has already upset fellow judges with his hard-hitting comments.
Former All Saints singer Mel Blatt has clashed with Bedingfield on air, and last month told the Herald on Sunday she's glad she doesn't sit next to him on the panel.
Frost joked she will whack Bedingfield if he steps out of line tonight. She has declined an offer from producers to sit Stan Walker between them.
"I will be wearing my biggest rings, in case I have to knock him out with a right hook," she said.
"He was singing in my ear during the show last week and it made me feel really quite sick."
Singer-songwriter Frost - who insists she is too busy for a boyfriend - revealed she resisted an urge to release new material during the X Factor to cash in on the popularity of the show.
Walker and Bedingfield have announced a string of gigs in New Zealand during the programme's prime-time run.
The show's top 13 reunited for rehearsals yesterday, meaning all the favourites will be back tonight.