Paula Yeoman gauges the tension as artists, and their audience, gear up ahead of tonight's X Factor final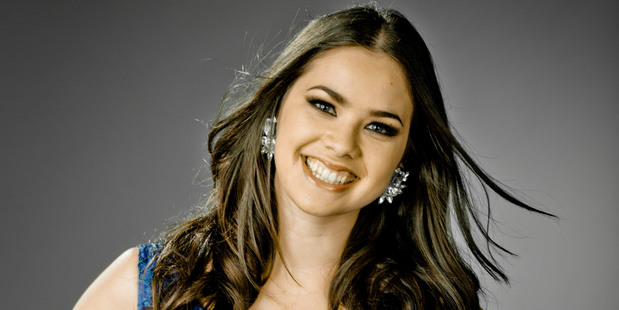 The X Factor NZ has divided households, sparked social networking wars and provided the best "water cooler" topic since Shortland Street's Ferndale strangler plot line.
If it's been that tense at home sitting on the sofa, spare a thought for the show's three finalists, Benny Tipene, Jackie Thomas and Whenua Patuwai, particularly Patuwai, who controversially snuck in ahead of crowd favourites Moorhouse in last week's semifinal.
For Tipene, those few nerve-racking minutes when the contestants are waiting to learn their fate are the most surreal of the competition. "You're all sitting behind a screen and then it opens and you're put on live television. All that's running through your head is, 'Who's going home?' 'Who do I want to go home?' 'Is it me'?"
"Moorhouse took it really well," he says of last Monday's intense elimination show. "But afterwards they were quite gutted. Their families came and there were a few tears, which is understandable because those boys wanted it so badly."
It was just one of a number of controversial, and questionable, moments in the 13-week-long TV3 series. Others included Thomas' sudden appearance at the judges' retreat in Rarotonga, despite earlier being kicked out at boot camp and Daniel Bedingfield's call that kept L.O.V.E in over Taye Williams, who later told media, "Daniel doesn't want to come anywhere near me... I won't be held responsible for my actions."
Bedingfield and the other judges, Stan Walker, Melanie Blatt and Ruby Frost, insist they have achieved what the show set out to do - find a Kiwi star with X Factor who can cut it on the international stage.
Even if some don't necessarily think all three of them have what it takes. "I genuinely believe we have that with two of them," says Bedingfield. "I would have preferred Moorhouse to still be here," adds Blatt. "But I believe in Benny and Jackie 100 per cent."
Walker and Frost stand by their support for Patuwai. "They're all amazing artists and they will do us proud," says Walker. "Without a shadow of a doubt," says Frost. "They all have such different styles to offer and they will be able to represent New Zealand with pride."
Not that the judges' views matter now. From here on in, it's entirely down to the public as to who wins the first-ever The X Factor NZ and the coveted recording contract with Sony Music.
Twenty-two-year-old Tipene from Manawatu says both would be nice. But he admits it was never about winning. "I went into it to get good exposure and to be in the competition for as long as I could. My goal was to make it to the live shows. Obviously it's gone a bit further than that," he says.
"The more I've been in it, the more I want it."
The cool, calm Tipene isn't your stereotypical X Factor contestant. For one he's more comfortable singing his own songs with his trusty acoustic guitar than he is doing covers. And he had to dig deep to pull off playful performances like his rendition of The Smiths' Charming Man, where he pranced around the stage before handing a flower to Blatt.
But he's had little time to give much consideration to what happens if he does win. Or the pressure to rush out an album of covers, as so often happens with big international talent shows like this.
"With this competition, there will probably be an album that's 'The Journey Of Benny' or something, you know, all the songs I've done on the show. I'm not too sure. I should probably look this all up this week," he laughs.
"And that's just the way that it goes. That's just something you've just got to bite the bullet on and you've got to go along with. I know that's not the way I'd go about releasing a first album. But hey..." Tipene trails off, referring to the success of Dave Baxter and his massive Avalanche City hit Love Love Love.
"Obviously that's all his own material, but it's that same sort of structure. You get a number one song and everyone starts listening to you."
First he'll have to beat off stiff competition from Thomas, who wants the win just as badly. "After what happened at boot camp, I was lost," she says. "But the live shows have built me as a musician and for that I am so grateful. It would be an incredible honour to win."
Perhaps even hungrier so that he can prove the sceptics wrong, is Patuwai. "It would mean the world to me. My family and supporters have been amazing and I want to take it out for them."
And if the vote doesn't go in their favour - what then?
"The X Factor has given me an amazing platform. I'll just keep trying hard to keep doing this. I want to make a name for myself. I want New Zealand to be able to hear my music," says Thomas.
Patuwai says he'll keep working hard and trying to make it. "The X Factor is just the beginning," he promises.
The same can be said for Tipene who already has around 35 original songs under his belt.
"I'd love to record an EP or an album and to tour New Zealand. I don't really want to make a whole bunch of money. I just want to get out there and make music my job and really work."
What started with more than 6000 hopefuls across 27 towns and cities ends tomorrow night with just three talented Kiwis who ask only one simple favour, - "please vote".


JUDGES' FINAL WORDS
Based on your own experiences in the music business, what's the single most important piece of advice you'd give the final three?
Ruby Frost: Be determined. It only gets harder from here.
Stan Walker: Be true to yourself. You will have lots of people telling you which way to go but you need to stay strong.
Daniel Bedingfield: (To Jackie) It's all about hits, so pick the best song for your voice. Don't settle for average songs.
What's your advice to the runner-up?
Stan Walker: Keep working hard. If it's your dream then keep reaching for it.
Mel Blatt: This is an amazing opportunity so take it and run with it.
If it had been down to you, which act already voted off would also be in the final?
Ruby Frost: Tom,w hands down. I miss him lots.
Mel Blatt: Gap 5. They are my girls.
Stan Walker: Maaka. His voice was amazing.
Daniel Bedingfield: I would love to have seen where Aotea could have gone with the right mentoring. Maaka is another one. He had one of the greatest voices.
Mel, do you have plans to return to New Zealand? Would you do The X Factor again if asked? What are the lasting memories of your time here?
I have absolutely loved New Zealand and would be back here in a heartbeat. The landscape is amazing and the people are fantastic. I knew nothing about this country before I came here and I tell all my friends back home how amazing it is.


IN MY OPINION
It's on social networking sites like Twitter where much of The X Factor fan action was played out. These celebrity supporters took to Twitter regularly to air their views on everything from Daniel Bedingfield's outfits to Stan Walker's grammar and, of course, the performances. Here are their highlights, the frustrating and cringe-worthy moments and their picks for a winner.
Ingrid Hipkiss - TV3 weather presenter
Benny should probably win. Although I didn't like his treatment of Tom Petty or Guns N' Roses, he's the most talented of the final three. Of the final four, Moorhouse had the most X Factor. There is a difference between talent and X Factor. The worst decisions were sending Cassie and Moorhouse home. If Whenua wins, with all due respect, I will be irrationally upset.
Daniel's love-struck-puppy look and tears when he watched his girls perform made me cringe. But I love Mel. She's a total fox and I love her swagger.
I kept having revelations - at 3am on a Monday morning - of what the perfect song for a contestant would be. Like Jackie should have done Pat Benatar instead of Oasis.
Te Awanui (Awa) Reeder - Singer-songwriter, former Nesian Mystik frontman
My highlight was seeing Stan Walker perform Bulletproof. He's a true entertainer and sets a great benchmark for the contestants and for all aspiring entertainers out there. I admire his position on using more Maori music and I applaud his use of Te Reo Maori during the show.
Watching the episode where L.O.V.E sang off against my cousin Taye Williams was frustrating. Not only did L.O.V.E destroy a New Zealand hip-hop classic from Savage, Taye was eliminated.
Jackie can sing. She looks the part and got better every time she performed. I don't think this show has even scratched the surface of her potential. There is a sexiness about her that draws you in. She should win this competition.
Sharyn Casey - Presenter on FOUR Live and on The Edge
I've got a couple of favourite X Factor moments - one was when Mel Blatt was named as a judge. She's an All Saint! I also enjoyed Tom. He was so funny and talented. I especially loved when they filmed at his house with his mum. And Benny and Tom singing for survival. I didn't want either of them to leave.
I found myself yelling at Daniel Bedingfield to shut up a lot when the other judges were giving feedback and he'd lean across trying to butt in. You've had your turn Daniel!
I want Benny to win. I feel like he could have a really long career. He gives the impression that he'd easily write his own music, you could always rely on him to perform live and to stay humble, which can be the downfall for a lot of people.
K-One - Rapper
There's no particular act that I 'wanted' to win but I always thought the two acts that should win a show like this were Moorhouse and Cassie. Because a show like this isn't a singing competition, it's a quest to find X Factor - and I can see both of them doing really well in New Zealand's market. You have to remember that being a great singer doesn't automatically make you a star.
Admittedly I was wrong about Moorhouse but I'm sure we'll hear more from them in the near future.
My favourite moments on shows like The X Factor are always the auditions. More so the people auditioning that shouldn't have.
Hilary Barry - 3 News presenter
Benny should win. Of the three finalists, I think he's the most musical, versatile and ready to launch into a career right now. I love Whenua and Jackie but I still think they both need more time in gestation. And watch out for Moorhouse.
Though they only placed fourth, like plenty of other talent show contestants , I think it's likely in the long term they could be one of the most successful.
Jackie's audition ticked all the boxes as a favourite moment for me. It was classic X Factor - a shy lass from the West Coast takes the stage, you wonder what's going to happen as she unleashes her stunning voice on a disbelieving crowd. If the competition was based on one audition alone, she would have won hands-down.
I thought Mel Blatt's comments, at times, were a little harsh. Not everyone can get away with being as cruel as Simon Cowell.


• The X Factor finals will be held tonight and tomorrow on TV3.