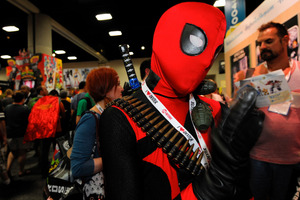 The zombies, superheroes, space aliens, pirates and time travelers taking over the streets of San Diego can only mean one thing: Comic-Con is here.
The 44th annual pop-culture extravaganza kicked off Wednesday with preview night, which grants early access to the show floor to attendees with four-day passes.
Some fans camped out on the grass near the convention center to be among the first in line for Thursday's presentations for TV shows such as Dexter and films like Divergent.
Comic-Con continues through Sunday.
Films expected to be hyped at Comic-Con this week include reboots of Godzilla and RoboCop and sophomore outings from Captain America, Thor, The Amazing Spider-Man, Rise of the Planet of the Apes and The Hunger Games.
The cast and creators of several TV shows will be on hand to tease upcoming seasons, including returning fan favorites The Walking Dead, Game of Thrones, True Blood and Once Upon a Time, as well as newcomers like Sleepy Hollow, 'The Blacklist and Marvel's Agents of S.H.I.E.L.D.
- AP