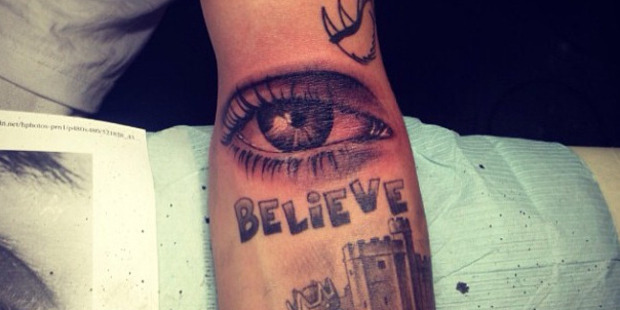 Justin Bieber has unveiled a new tattoo which he says is of his mother's eyeball.
The Never Say Never singer proudly showed off his latest inking on Instagram by posing for a picture with tattoo artist Bang Bang, who can be seen pointing at Justin's new body art in the snapshot.
The ultra-realistic eye design allegedly represents the watchful eye of Justin's mother, Pattie Mallette.
The new tattoo sits in the crook of his left arm, just above the word Believe, which the 19-year-old star got to commemorate the release of his third album.
This brings ink-mad Justin's tattoo tally up to 16, with some of his more original images including a portrait of Jesus, an owl, and girl closely resembling his ex-girlfriend Selena Gomez.
Hopefully, Bang Bang - whose clients include Cara Delevingne, Rita Ora and Rihanna - received a warmer welcome from Bieber than his last tattoo artist.
The pop star was branded a "spoiled brat" by Guy Sahar, who was called to the singer's hotel suite in London in March, only to allegedly be kept waiting for hours and then have his usual fee halved.
Guy said at the time: "Initially I was told to go to Justin's hotel at 7pm by one of his minders but then I was called back and put on standby all night.
"I was finally summoned to the hotel at 6am. I was told money wasn't a problem so we didn't discuss prices.
"I spent four hours tattooing him and his DJ, and wasn't even offered a glass of water."
Follow @nzherald_ent on Twitter for up-to-the-minute entertainment news, videos and reviews.
- Bang! Showbiz