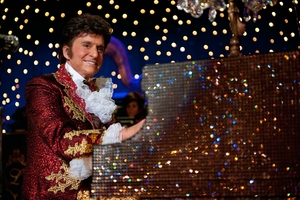 For Michael Douglas playing Liberace was quite a leap. For one thing he was no piano player. For another, just as he was to start on the film he was diagnosed with throat cancer with a walnut-size tumour found at the back of his tongue.
So his performance in Behind the Candelabra has been a spectacular comeback for the Hollywood veteran after a brutal six-month regimen of radiation and chemotherapy. Douglas was 67 at the time of filming - the age when Liberace died from an Aids-related illness.
Now he's basking in the glow of wide acclaim for his performance in the movie, directed by Steven Soderbergh. However, the film - which was backed by cable network HBO after Hollywood movie studios passed on Soderbergh's script, worried about its risque gay themes - is only getting a cinematic release outside the United States where it has already screened on pay television.
"Actually I can't believe how lucky I am," says Douglas, "coming out of that whole cancer thing and then wondering if I had a career and then playing one of the best parts I've ever had.
These guys [Soderbergh and producer Jerry Weintraub] hung in long enough for me to do this and so there was an energy and passion that let loose after a couple of dark years."
Douglas had briefly met Liberace - Lee to his friends - while visiting his father Kirk when he was 12 years old. "Lee didn't have a hair out of place; now I know why," he jokes, referring to the bouffant wigs favoured by the balding performer, which Douglas himself had to wear for the film.
In his first attempt at playing a real-life character, Douglas was up for whatever it took. He had to work hard to avoid his portrayal sinking into parody.
"Generally I could go as far as I wanted, but Lee was much more campy on stage than he was at home. When he got angry he was at his coldest and least campy."
In the film Soderbergh used archival footage of Liberace at the piano and artfully edited around it. "I figured his hands are moving so fast anyway as long as I had mine in the right places."
The other part about playing Liberace, of course, was that he was gay - though he famously denied it throughout his career.
Soderbergh's film depicts the five-year relationship between the pianist and his young lover Scott Thorson (Matt Damon). His script is based on Thorson's 1988 book of the same name, the story beginning in the summer of 1977 and following the couple's tumultuous relationship which ended in a paternity suit.
Soderbergh notes the film has a tragic undertone because things may have been very different if Liberace lived in another era. "Thirty years later they wouldn't have had to hide this [and] he wouldn't have died of Aids," the director said at the Cannes Film Festival in May.
Says Douglas:"It's a great love story. I watch it and I forget about Matt and myself. Then, pretty soon, I practically forget it's two guys: The conversations and arguments sound like any ol' couple."
Still, this was a movie with a risk factor for Douglas and Damon as they tackled roles dramatically at odds with their images and past work.
"I looked at Matt and thought, 'Man, this guy's brave'," said Douglas. "It's one thing for me at my age to stretch a little bit and try different characters. But Bourne! A man in the prime of his career going this route? I was in awe of Matt's courage."
Why did Douglas sign on?
"First of all, Lee was a nice guy," says Douglas. "He was a lovely, lovely guy. I don't play many nice guys."
Douglas nails Liberace's velvety, nasal voice and almost-ever-present pearly smile.
"One of the things I enjoyed about this part was I got to smile," he said. "I don't smile a lot in my pictures. I'm always so ... grim."
Playing Liberace "was so much fun. You put on this mask and it allows you to do anything you want. I don't get to do that very often. My movies are usually about stripping off the makeup, getting down to the skeleton."
- Additional reporting agencies