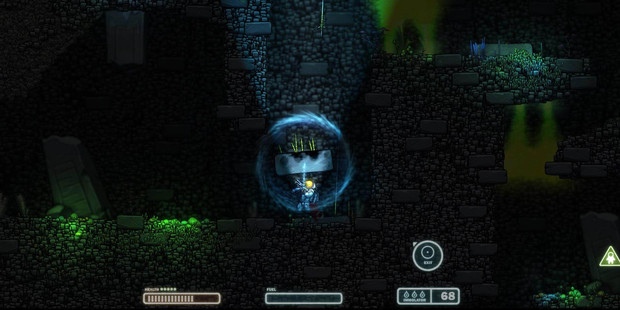 In a world where triple-A games, with their massive budgets on the line, all too often stick to the tried and true, it's good to know that we can rely on indie developers to try new things. That's just what two-person developer Alientrap did with 2011's PC game Capsized, taking the traditional run and gun 2D platformer formula and mixing in a healthy dose of FPS inspiration, to great success. And now, after many a delay, this indie gem is finally available on Xbox Live Arcade.
Capsized begins with what has become a common sight in science fiction - a space ship crash landing on a hostile alien planet - but it manages to breathe new life into this old cliche. There is no opening cutscene in the traditional sense, nor any dialogue; in their place, a series of gorgeous hand drawn images and a haunting score that set the tone better than any big budget intro video ever could. This immersive yet unassuming aesthetic is consistent throughout the game, with the entire (admittedly simple) plot being unveiled entirely through gameplay, lush hand drawn environments, a bleak yet serene atmosphere, and the occasional still image on a loading screen.
Following the crash, it's up to you, the stout, nameless galactic traveller, to rescue any survivors and repair your ship. To help you deal with the constant threat of being turned into a splash of red and pink pixels by the angry natives, the original PC version of Capsized took the standard FPS keyboard and mouse control scheme and adapted it incredibly well to a 2D environment.
The use of a mouse to aim your weapon of choice gave you extreme precision, something the game really demands of you at times. This hasn't really made the transition to a controller all that well, with the frantic movements of some enemies hard to follow with the limited freedom offered by an analog stick.
To help address this, the console version has a lock on button, but it doesn't seem to be good at picking the most pressing threat, often prioritising the foe half a screen away over the one aggressively violating your personal space. Sometimes, it just won't lock on at all, leaving you to fend for yourself with subpar aiming controls.
A good arsenal of firearms and some incredibly varied - and occasionally flat out brutal - enemy designs mean that the combat is quite spectacular for the most part, but I'd be lying if I said that the aiming issues didn't detract from the experience.
When you're not being accosted by aliens, you get to explore the extraterrestrial landscape, and this is where Capsized really shines. Eschewing the linear side scrolling typical of run and gun platformers, levels in Capsized are expansive, open ended affairs, more reminiscent of a Metroid game. Some have a single endpoint, but a myriad of ways to get there; others task you with you with finding or destroying a handful of objectives strewn across the map, which you can address in any order you please. If you're the kind of adventurer who prefers to leave no stone unturned in your hunt for treasure, the levels also have plenty of hidden areas for you to discover - typically containing some form of heavy weaponry, which comes in very handy.
While great most of the time, this approach to level design does also pose a few problems. Checkpoints are way too scarce for such large maps, and are often in odd locations and not marked in any way, making them easy to miss. Additionally, there is no kind of mini map, so it can be easy to get lost, especially when you're frantically trying to turn the tables in a firefight with some angry, spear throwing locals. Thanks in part to the planet's relatively low gravity, and a tendency to get caught on bits of the environment, the platforming controls are also not quite as tight as they need to be. Often, what should be a basic jump or puzzle ends up being much tedious than it should be.
Fortunately for the crew of the unlucky ship, getting off the hostile planet and back to the relative safety of space doesn't take too long, with the game clocking in at around four or five hours. That may seem pretty short, but it's reasonable for a game that will only set you back 800 Microsoft Points (about $16.). On top of that, there's a tonne of replayability with different difficulty settings, a plethora of secrets to find, various extra challenge modes (survival, time trial, no weapons mode, and so on.)
For those who've already played Capsized on PC, the console version comes with four extra levels, but I don't know if that's enough to justify buying the whole game again unless you really liked it and are desperate for more content. If you haven't played it yet, and are on the hunt for a cheap and charming, if at times frustrating, indie platformer, then a journey with Capsized's crew is a good way to go.
Platform: Xbox Live Arcade/PC