First of the Loft series also took in heartfelt scores by Psathas and Shostakovich - all without a break.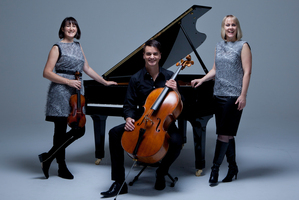 NZTrio appears to have claimed the welcoming space of Q Theatre's Loft as its Auckland home, enabling Justine Cormack, Ashley Brown and Sarah Watkins to play to a capacity audience while retaining the friendliness of a house concert.
On Sunday, the first of its Loft series set off with a rarity - a 1921 Trio by English composer Rebecca Clarke.
If not a New Zealand premiere, then certainly this was probably a first hearing for most in the room.
Although Clarke was settled in the United States at the time, there is something ineffably English in this score's carefully manicured lines, admitting a dash of Celtic lyricism and the occasional Debussian wash.
Only in the final movement does one sense strain as Clarke ventures into tougher territory with what comes across as a rumbustious reel.
It could not have had a more sympathetic performance than the one we experienced.
There was much enjoyment from watching Watkins luxuriating in rhapsodical piano writing and listening in to the many conversational exchanges between the strings, at their most tender in the idyllic second movement.
Psathas' Corybas is as far from an idyll as one could imagine, inspired by the Greek mythological figure associated with a particular brand of Aegean wildness - an image that might seem ready made for this composer's house style.
Brown warned us of "quite complicated rhythms" - an understatement for the expertly manoeuvred twists and turns in the middle section.
If Watkins' piano groove tended to dominate, there were subtler rewards in the string relationships around it, although the work does not equal the stature of Psathas' earlier Helix, which the musicians premiered six years ago.
NZTrio has lived with Shostakovich's E minor Trio for some years now, a relationship accentuated in the intimacy of this setting.
From Cormack and Brown's hushed opening lines to those implacable piano chords that fuel its heartrending Largo, this music spoke more than ever from the heart.
This concert was quite a journey at well over an hour - 75 minutes allowing for a slightly late start. Even a 10-minute break before the Shostakovich would have been welcome.
Review
What: NZTrio
Where: Q Theatre Loft
Follow @nzherald_ent on Twitter for all the latest entertainment news.