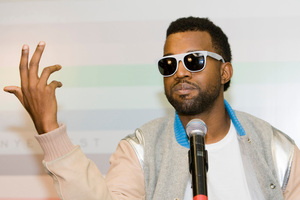 Kanye West has told photographers to never speak to him again.
The intensely private rapper lashed out at a TMZ.com cameraman at LAX airport in Los Angeles.
The 36-year-old rapper was reportedly furious to be addressed by the videographer, who told him he loved his music.
"Don't talk, don't talk to me," he rambled.
"I don't want to hear paparazzi talk to me or anybody I know. And tell everybody never talk to anyone that anyone knows. Don't talk to themselves. Don't talk ever again."
The cameraman had been reportedly attempting to tell West how excited he was about a possible sequel to his 2011 Watch The Throne record with Jay-Z.
After his furious outburst, West "charged back at our photographer and ripped at our camera," according to the entertainment website.
Kanye has a previous history with TMZ cameramen.
He was arrested back in 2008 for "smashing" their equipment at LAX but the charges were later dropped.
Kanye has just become a father to baby North West by his girlfriend Kim Kardashian who is one of the most photographed women in the US.
Before North's birth, the rapper discussed his need for a private life.
"I just don't want to talk to America about my family," he told The New York Times.
"Like, this is my baby. This isn't America's baby."
- COVER MEDIA