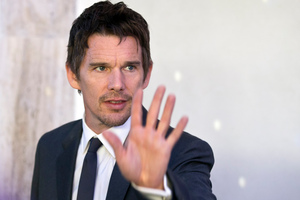 Ethan Hawke says he was shocked by how much he liked Melbourne while he was living there.
The Hollywood star spent a few weeks in the Victorian capital earlier this year to shoot his forthcoming sci-fi movie Predestination.
And he says he found the city to be a great place for families.
"I found Melbourne to be an incredibly liveable city. I was kinda shocked," he said.
"My kids came. There's a lot of fun to be had, and it's a great place for families. The beaches were beautiful. I liked it. I was impressed."
Hawke has four children - 14-year-old Maya Ray and 11-year-old son Levon Roan from his marriage to ex-wife Uma Thurman, and daughters Clementine, aged four, and Indiana, nearly two, with his wife Ryan Shawhughes.
Fresh from the success of his latest movie The Purge, Hawke is about to reappear in Australian cinemas as recurrent character Jesse Wallace in Before Midnight, the follow up to 1995 cult hit Before Sunrise and 2004's Before Sunset.
Hawke is currently focusing on a return to Broadway where he will tread the boards as the Celtic King in Macbeth.
* Before Midnight release in Australia on July 18. Predestination opens here in November.
Follow @nzherald_ent on Twitter for all the latest entertainment news.
- WENN