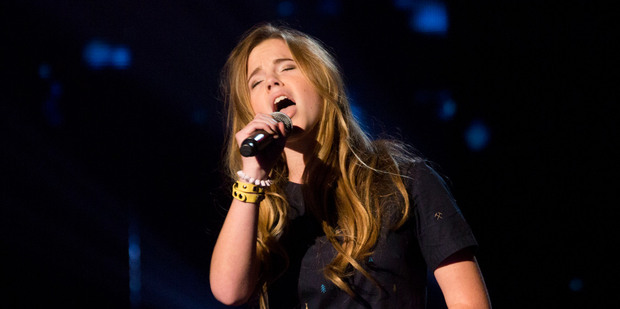 It's been a week of music to rot your teeth to. Honestly, between Coke Choice week on X Factor and the Pepsi-flavoured Beyonce cupcakes that arrived on Monday at TimeOut HQ, my molars have all but fallen out.
And when I heard the lovely Jackie had to sing Black Velvet by Alannah Myles my head flipped back, the brain started rattling, and I had to restrain my urge to reach for a stiff Wild Turkey and Coke to ease the pain.
Even though she sang the song well, I'm with Stan Walker, it's a bad song. It, along with the soppy I Swear by All 4 One which Moorhouse were lumped with, highlighted the horror song choices the New Zealand public made via the Coke Choice App. You see, fans of the TV show had to select a song for them to sing that was released during the year the contestants were born.
Now then, because they're all so young they were all born in the nineties. Though the decade was the heyday of insipid boy bands and some ghastly bog standard rock, there was also some great music to choose from.
Take 1990, the year both Jackie and Benny (who got Tom Petty's Free Fallin'), were born. As well as Black Velvet there was Suicide Blonde by INXS which Benny could have tried his hand at, and Justify My Love (my favourite Madonna song) for Jackie.
Perhaps it's because my main sugary drink these days is beer, which is a natural bedpal with music if you ask me, but the bad song choices also highlight the sometimes odd relationship big soft drink brands have with music. It's quite often contrived and always, no matter how hard it tries, a blatantly commercial connection.
Take the cupcakes for example. They weren't baked into the shape of Beyonce or anything. Neither did they have bright pinky purply icing like the colour of the outfit she wore in the Bootylicious video. In fact, the cakes were nothing flash, just a yummy marketing ploy to announce Beyonce's alliance with Pepsi and what special treatment fans could get courtesy of Pepsi when she plays here in October.
Beyonce's Pepsi deal is worth a whopping US$50 million ($64 million). And I quite like the new ad. It's an entertaining history lesson about her, book ended by the star taking a sip of Pepsi and big upping their Live For Now campaign, and it also acts as a promo for new song Grown Woman. It's simple, stylish and commercially clever. Although the singer herself likes to think of it as "an exciting artistic collaboration". But um, no, it's not, it's an ad.
And while Beyonce is happy sipping her Pepsi, a quick look back in history also shows a somewhat fraught relationship between fizzy drinks and music makers. Pepsi scored a major coup over Coke in 1983 when they lured the King of Pop to be the face of their advertising campaign. But it turned awry when MJ's hair caught fire during filming for a commercial in 1984. He reportedly suffered ongoing migraines and permanently lost some hair after the incident.
Closer to home Iggy Pop caused a minor controversy when he took to the Pepsi advertising hoardings during his support slot for Jimmy Barnes in 1985. Pepsi were not impressed with Pop taking pot shots at their pop and after a firm talking to by the soft drink's lawyers - that would have been a funny conversation - Iggy managed to restrain himself for his Auckland show at Mt Smart Stadium.
Back in the 60s the Kinks were censored by the BBC for having Coca-Cola in the lyrics to Lola (they changed it to Cherry Cola), and the Beatles, never shy of endorsing a product, on Come Together wrote: "He got toe jam football/He got monkey finger/He shoot Coca Cola."
Though God knows what they were on about there, so safe to say it wasn't a true endorsement because they were obviously on something far stronger than Coca-Cola when they wrote it.
Follow @nzherald_ent on Twitter for all the latest entertainment news.
- TimeOut