Bad Education, inspired by teachers' stories, takes actor back to his comic roots.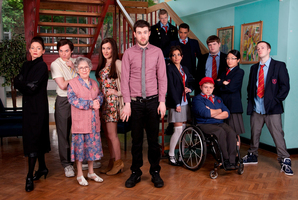 Jack Whitehall may be only 24, but he's already established himself as a ubiquitous figure in the British comedy scene. He's a regular on the standup circuit and is currently appearing in three different guises on British TV - as a panelist on sports show League Of Their Own, as detestable schoolboy JP in Fresh Meat, and as hopeless high school teacher Alfie Wickers in BBC3's Bad Education - a sitcom he also wrote, which begins here on UKTV this week. It's a playful jibe at the British education system, with Alfie being a willfully terrible young teacher, surrounded by confused kids and bonkers, power-hungry staff.
"I think I do have that kind of man-child element to me" Whitehall says when asked if he's anything like Alfie.
"That's what I enjoy playing about him, because it's kind of the worst facets of me, being a really immature big kid."
School is in fact where Whitehall got his start, doing stand-up for his classmates and teachers at 17.
"I was a bit of an attention-seeker at school, and a bit of a clown. I wasn't really funny, but I was always doing things, trying to be creative and stuff, so I guess it was a little inevitable that I would end up doing something along these lines."
The fact his parents were both in entertainment is not something he remembers as an advantage.
"My mum was an actress and my dad was an agent for stage actors back in the day [Dame Judi Dench and Colin Firth among them] so we are quite a theatrical family I guess, but they were still adamant that I shouldn't get involved in that world. They'd both experienced how frequently creative people are out of work, so they weren't keen on me heading down the same path."
And despite his success, they've yet to come round entirely. "They'd rather I had a proper job."
A "proper job" like teaching? Given the stories he's heard from his teacher friends, which were the inspiration for Bad Education, perhaps not.
"Loads of my friends went off to become teachers when they left university, and got put in various placements. A lot of them were doing placements in schools where they felt a bit out of their depth, you know they'd had quite sheltered lives and suddenly they were in these schools full of crazy kids and mad situations, and they were fish out of water."
His own school days also provide starting ideas for particular storylines.
"In episode six, the headmaster is caught watching sort-of pornography on his laptop, while he's supervising an exam, and it accidentally ends up on the projector behind him. That actually happened at my school, and the guy was fired."
Though the show clearly enjoys sending up the lack of education going on at Alfie's school, Whitehall didn't create the show to air serious comments on the education system.
"There is a problem with our education system, but I don't know if a fun sitcom is really the best way to go about dealing with it - or if I'm the person to tell anyone about it. But we do try to sneak in subtle points about it every now and again. The best comedy often rings true."
Lowdown
Who: Actor and comedian Jack Whitehall.
What: New TV show Bad Education.
Where and when: Starts Thursday at 9.30pm, on UKTV.