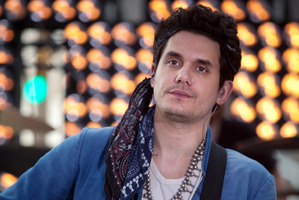 John Mayer has dodged questions about the inspiration for his new song Paper Doll amid reports it is about ex-girlfriend Taylor Swift.

The singer thrilled fans when he took over New York's Rockefeller Plaza for a concert on US breakfast show Today on Friday, but he shuffled awkwardly when he was put on the spot by co-host Willie Geist, who quizzed him about the girl he was singing about.

Mayer refused to confirm or deny rumours his ex was his muse for the song, and instead brushed off the speculation, insisting all tunes could be interpreted in many different ways.

"Songwriters write songs because of people, about people," Mayer said.

"Anything someone else wrote is their reception of the song. I don't get involved; it's none of my business."

Gossip bloggers are convinced Paper Doll is Mayer's answer to Swift's track Dear John, on which she appears to take aim at Mayer, singing, "I'll look back and regret how I ignored when they said, 'Run as fast as you can'."

On Paper Doll, Mayer seems to hit back at Swift, singing, "You're like 22 girls in one/And none of them know what they're running from/Was it just too far to fall for a little paper doll?"

Swift released her single 22 earlier this year.
- WENN