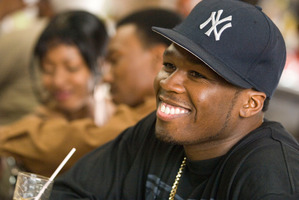 Rapper 50 Cent appears to have made light of the domestic violence charges he is facing by posting a number of humorous pictures online to show fans he is not in jail.

The hip-hop star, real name Curtis Jackson, has been accused of attacking a former girlfriend at her home in California last month and is facing domestic violence and vandalism charges stemming from the alleged incident.

The rapper now appears to have addressed his legal drama in a series of humorous posts on Instagram, publishing pictures of himself at home to prove he is "not in jail".

A picture which shows him in his kitchen is captioned, "I'm not in jail I'm in my kitchen fool," while another which shows him relaxing in his lounge is titled "I'm not in jail I'm on my Gucci couch".

The pictures also show him by his home swimming pool and in a casino, while a final image of him playing piano is captioned, "Ok I'm not in jail but if I go I'm taking this piano with me."

50 Cent will celebrate his 38th birthday on Saturday.
- WENN