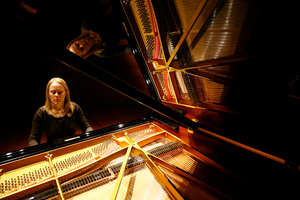 Over the years, Auckland Philharmonia Orchestra has shown a real nous for matching conductor and concert and having Rory Macdonald in charge of Thursday's Bach to the Future proved to be one of its happiest pairings.
One might have expected a Scotsman to add that extra dash of tartan to Mendelssohn's Scottish Symphony, but the real bonus came in the opening work.
Macdonald's two years in Hungary, working with Ivan Fischer and his Budapest Festival Orchestra, were a definite asset for Bartok's Music for Strings, Percussion and Celesta.
It seems extraordinary that Auckland has not heard this piece live since 1968. Bartok, at his most approachable, pushes former astringencies aside for the piquant palette one might expect from this orchestral combination.
The players, clustered around the dramatic presence of Sarah Watkins' Steinway, evoked a Slavic world of muted melancholy, uproarious folk spirits and, in the third movement, Bartok's mysterious night music.
Particularly impressive were the inexorable tread of the opening fugue and the uproarious fun and games of the Finale.
The Bach of the concert's title was the E major Violin Concerto, elegantly delivered by Kristian Winther.
The fluency of the outer movement was effortless, as the Australian soloist blended in with a semi-circle of just 17 players, graced by Donald Nicholson's characterful continuo.
The central Adagio was breathtaking, as much for its hushed dynamics as for Winther's sometimes daring rubato.
For an encore, Winther stayed with Bach; a thoughtful Allemande from the First Cello Suite suggested that this young man should find time in the near future to revisit this composer's solo repertoire.
I have yet to be totally convinced by Mendelssohn's Scottish Symphony, a rather ponderous and note-spinning cousin to his Italian Symphony.
Rory Macdonald and the orchestra certainly swept away any reservations in the first two movements. The opening bars were irresistible, beckoning us into the work and rewarding us with an Allegro so exhilarating that even its sentimental asides were acceptable.
In fact, so fine was the playing of its rather homely Andante, that one wished Mendelssohn had come up with material worthy of such musicianship.
What: Auckland Philharmonia Orchestra
Where: Auckland Town Hall
When: Thursday