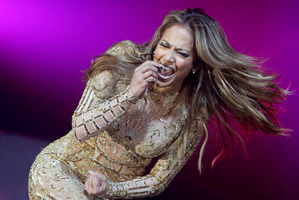 Jennifer Lopez was reportedly paid US$1.5 million (NZ$1.9m) for a controversial performance in front of the Turkmenistan leader.
The singer sang Happy Birthday Mr President to Gurbanguly Berdimuhamedow at a controversial concert in the Central Asian state.
The country has been described as having "one of the world's most repressive" regimes because of its terrible human rights record.
Lopez's performance took place in the US$2 billion resort of Avaza, a huge luxury complex on the country's Caspian coast.
"Her private, one-off fee rate is US$1.5 million non-negotiable, plus private jet and hotel for her and her entourage," a source told Radar Online.
Lopez's publicist went into damage control after her performance, declining to name the star's price tag and issuing a carefully worded statement.
"Had there been knowledge of human rights issues of any kind, Jennifer would not have attended," the representative said.
Lopez was hired by the China National Petroleum Corporation for the event, reportedly held to celebrate Mr Berdimuhamedow's 56th birthday.
The statement added that Lopez "graciously obliged" a last minute request to sing Happy Birthday to the dictator at the end of her performance.
Lopez's manager has also weighed in on the row, telling TMZ that the star believed she was in Turkmenistan to perform a corporate concert and did not know the president was in the audience.
Benny Medina said there have been no discussions about Lopez returning her fee.
Meanwhile, human rights activists have spoken out against her decision to perform.
"Lopez obviously has the right to earn a living performing for the dictator of her choice and his circle of cronies," Human Rights Watch president Thor Halvorssen told Radar in a statement.
Follow @nzherald_ent on Twitter for all the latest entertainment news.
- AAP