When was the last time so many people have danced themselves silly to a band featuring a banjo?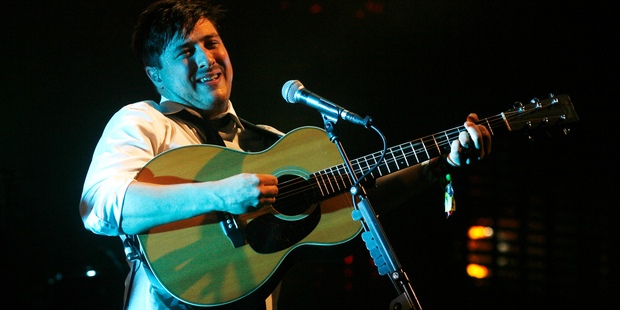 I watched all of the UKTV/BBC Glastonbury coverage but, I admit, most of it on fast forward. Every time they cut to another bit of history about Britain's most enduring and most famous musical or took a wander into the hippie zone or the Beeb's resident raver-presenter headed into the dance tent, up to 30x it went.
Though I did pause long enough to conclude: surely there is no worse band in the world than Hurts - a kind of leathered-up vaguely S&M Pet Shop Boys.
Yes, there was a very odd variety of stuff in the coverage. There were no Stones but Primal Scream doing their Stones rip-off Rocks.
There were long exhausting sets from Friday and Sunday night headliners Arctic Monkeys and Mumford & Sons.
The former reminded of their Big Day Out set from a few years back, in how the band powered on through but didn't seem to connect.
Mumford and co reminded that for a band who have only been around for a couple of years, they sure do have a lot of songs that sounds like some of their other songs.
Still, when was the last time so many people have danced themselves silly to a band featuring a banjo? And the encore of With a Little Help from My Friends, for which they brought on mates from the Vaccines, Vampire Weekend, the Staves and First Aid Kit for an all-in We Are the World take on the Joe Cocker Woodstock arrangement, was really quite something. And there was also a nice shot of Mrs Mumford, Carey Mulligan, beaming from the sidelines.
Actually I, among many it seems, spotted Auckland's own promoter/rock historian/reissues master John Baker side-of-stage with blues guy Seasick Steve and John Paul Jones revelling in Chic's disco classic Freak Out.
There was no Nick Cave in the coverage but the songs of Kenny Rogers were still full of lyin' and cheatin' and shootin' and things that rhyme with that.
Actually, if you get a chance, go find Kenny's set online - it's hilarious. Not in an ironic-we-love-the-old-duffer's-cheesy-old-songs kind of way. But it was funny for the way Rogers gently, expertly chided the crowd for their wobbly sing-alongs on the likes of Ruby, The Gambler and - boy this would have been funny if Glastonbury had been its usual mudbath - Islands in the Stream.
Glastonbury have a fine tradition of throwing in such pop veterans in a dinner-time slot. It looks like a very fine thing to do, providing a bit of a melodic respite before the rest of the night's rock 'n' roll and outbreaks of rampant nu-folk banjo.
Hopefully the organisers of BDO version 2.0 might consider doing the same. But no, this is in no way a suggestion that next year's main stage breaks for the Len Brown Karaoke Hour.
Follow @nzherald_ent on Twitter for all the latest entertainment news.
- TimeOut