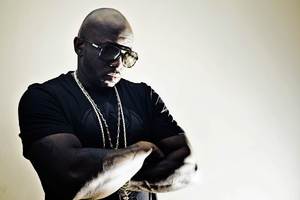 In more good news for music lovers, a small taster of acts has been announced for next February's Splore festival.
South London hip-hop geezer Blak Twang is making his first foray down to New Zealand for the three-day celebration. A cornerstone of British rap, like Dizzee Rascal, he originally emerged from the garage scene, and earned a reputation as a charismatic MC who enjoyed throwing slang and and sly-winking modesty into his work. Probably best known for his club classic So Rotten, he's also collaborated with Roots Manuva and Talib Kweli.
Fellow Brit hip-hop DJ/producer Shortee Blitz will also be returning to the festival for the third time, and Canadian electronic duo The Funk Hunters, who are regulars at the Burning Man festival in the Black Rock Desert in the US, will be making their first local appearance.
The always colourful, multi-genre festival has also confirmed some local acts for the bill: Wellington nine-piece Brockaflowersaurus-rex and the Blueberry Biscuits (check out their vocalists), Nick Dwyer and Dick Johnson's afro-Caribbean-influenced group Weird Together, and Berlin-based producer Scratch 22.
The festival will run from February 14 to 16, and tickets are available now though splore.net.
Arizona six-piece Calexico have also announced their return to New Zealand this week. Since their last visit in 2010, they've been busy writing film soundtracks, collating an anthology of their live recordings from the last 13 years, and recording and releasing their seventh studio album Algiers, from which they will be playing plenty of new material.
Recorded in and inspired by the musical hotspot of New Orleans, the record is a warm showcase of their prowess, not only as musicians, but at blending moody indie rock with folk, gypsy, jazz, and even some 60s pop.
They'll be performing at the Powerstation in Auckland on Thursday, September 12, at the Opera House in Wellington on Friday, September 13, and at the Christchurch Arts Festival on Saturday, September 14 and Sunday, September 15.
Meanwhile, British dance-pop act Disclosure have announced a one-off show in Auckland on September 27.
The boys behind the No. 1 single White Noise will be performing at the Auckland Town Hall, along with Alunageorge.
Tickets go on sale on July 5 through TicketMaster.
And finally, the NZ Dance Company have announced a new show Rotunda, which has been created in collaboration with singer/songwriter/composer Don McGlashan as musical director, and will be performed with a 25-piece brass band.
It's been inspired by the upcoming Anzac centenary of World War I next year, and takes the community symbol of a band rotunda as a centrepiece, to examine themes of loyalty, courage, loss, and hope. The music of Gareth Farr, John Ritchie, Edward Elgar and McGlashan, will be woven with traditional hymns, providing the backing for eight dancers.
The show will run from Friday, August 30 to Sunday, September 1 at Q Theatre.
Follow @nzherald_ent on Twitter for all the latest entertainment news.
- TimeOut