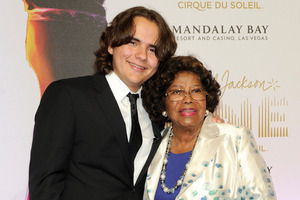 Katherine Jackson says it was comfort to see her son portrayed so accurately through the Cirque du Soleil performance Michael Jackson ONE.
Jackson attended the show's premiere at the Mandalay Bay Resort in Las Vegas on Saturday.
"It was so amazing. It was one of the best shows I've ever seen ... Very good. Very good show," she told Access Hollywood.
"My son was a workaholic and this show really brought it out. There was so much going on!''
Katherine, 83, is the guardian of the singer's children, Prince, Paris and Blanket.
Paris, 15, was unable to attend following her suicide attempt but, but her siblings enjoyed the experience.
"(Prince and Blanket) weren't next to me - they were with their cousins, my other grandchildren ....
Some of the grandchildren I got to talk to (after the show), and they loved it," Jackson said.
The King of Pop died after taking a powerful anaesthetic called Propofol in June 2009.
Four years on, Katherine is still remembering her talented son and feels comforted by how much he was loved.
"It was hard - just like it is now to talk about it ... I can't find words to describe how I felt - it brought tears to my eyes," she said.
"It makes me feel good that he had so many fans, so many people cared about him, so many people loved him. That keeps me going ... There's not a day that I don't think about my son. Sometimes all day.
"But when I meet people in the street and they recognise me, and they tell me how much they loved him and how they've been a fan of his since they were little and now their children are fans, that helps."
Saturday's world premiere was also attended by Michael's brothers, Marlon, Tito and Jackie and 19-year-old popstar Justin Bieber.
- Cover Media