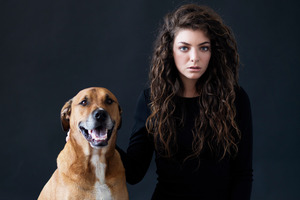 Despite a No. 1 single earning praise from overseas tastemakers, budding Kiwi star Lorde says she's broke.
The 16-year-old North Shore student, who topped the charts with her hit single Royals earlier this year, gave a rare interview to New York Magazine in which she admitted her popularity was "weird" because her bank account was empty.
"I get recognised, which is weird, when I'm at a restaurant and I've got my mouth full of food. And because I currently have a single digit in my bank account," she told the magazine.
She also posted an image on Facebook on May 3 of a Subway sandwich with the words: "My card just declined buying subway that cost $8."
The singer has earned praise from everyone from Ryan Seacrest to Perez Hilton for her EP The Love Club, but the Auckland student also said her sudden rise to fame had earned her unwelcome attention.
"I had to make a different Facebook the other day because I get weird messages from dudes saying, 'We're going to be the best of friends,' and I'm like, 'Ewww. We aren't'."
"But for the most part, people are really kind," she said.
Lorde is recording her debut album, due out in September, and she said the process had been "drama-free".
Her latest single, Tennis Court, is at No. 2 on the charts.
- nzherald.co.nz