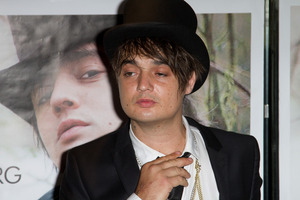 Pete Doherty is going to sell Kate Moss and Amy Winehouse's cigarettes butts.
The Babyshambles frontman is hoping to set up shop in Camden, north London, to shift random items which once belonged to the rich and famous, including his supermodel ex-girlfriend and his late friend Amy.
He told NME magazine: "I'm opening up a stall at Camden Market selling rock 'n' roll memorabilia.
"I have got fag butts that belong to Bobby Gillespie, Kate Moss and Amy Winehouse, and I've got Christmas paper that [former Coventry City goalkeeper] Steve Ogrizovic once sent to the guy from Black Sabbath. All kinds of s**t basically."
Doherty was friends with Winehouse before her death in July 2011, and he previously claimed that they were planning to record a song together before her shock passing at the age of just 27.
He said: "We always planned to do some Billie Holiday songs together - Good Morning Heartache and These Foolish Things. Whenever we'd get together with guitars, we'd go through them."
- Bang! Showbiz