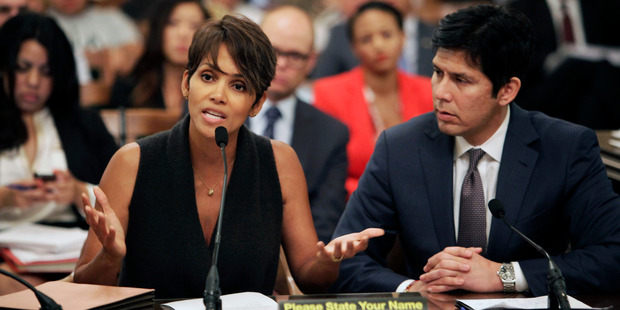 Halle Berry claims her daughter is afraid to go to school because of the paparazzi.
The Cloud Atlas star, who is due to give birth to a baby boy later this year, says that her daughter Nahla, five, doesn't understand why photographers follow her around and once feared they were trying to kill her.
The Oscar-winner appeared in Sacramento, California, to testify for a bill that would limit the ability of paparazzi to photograph the children of celebrities.
She told the Assembly Committee on Public Safety: "My daughter doesn't want to go to school because she knows 'the men' are watching for her.
"They jump out of the bushes and from behind cars and who knows where else, besieging these children just to get a photo."
Halle, who is engaged to French actor Olivier Martinez, said she was speaking in favour of the anti-harassment bill as a "mother of a daughter and the baby boy in my belly."
She added: "If it passes, the quality of my life and my children's lives will be dramatically changed."
According to the Washington Post newspaper, Halle also said her daughter, whose father is Canadian model Gabriel Aubry, was afraid paparazzi were going to kill them after the actress was forced to break up a fight between Olivier and a photographer at Los Angeles International Airport after they returned from a holiday in Hawaii in April.
She explained: "They were trying to start a fight with my fiance because if they get a photo of that it's more money. She (Nahla) asked 'Mummy, are they going to kill us?' She didn't get to sleep until 3am because she can't get this out of her mind and she doesn't understand what just happened to her."
If passed, the new bill would change the definition of harassment to include photographing or recording a child without the permission of a legal guardian by following the child or guardian's activities or by lying in wait.
- Bang! Showbiz