Five TV shows that will keep couch potatoes glued to their seats over the coming week.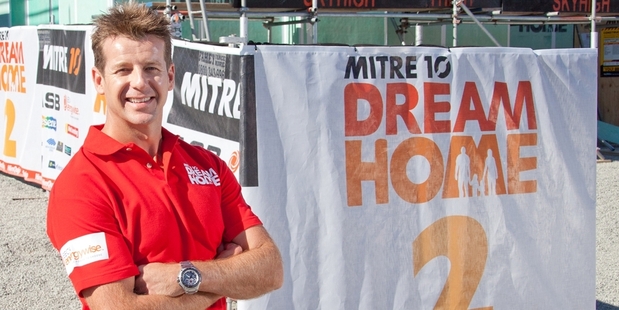 Pick of the week: MITRE 10 DREAM HOME
Just having a house that works is still a dream for many a Christchurch family. That emotion is what the producers of the revived, sponsor-heavy DIY format hope will translate into big ratings as two families renovate a house each - and hopefully keep the result of their labours.
Cantabrians began applying for the chance to compete on Mitre 10 Dream Home nearly a year ago. Six were chosen and filmed short videos to encourage New Zealanders to vote them through to the top two places.
Fast forward to next week, and in the first episode we see the Kaiapoi build site and meet the contenders - that's the Giles, McManus-Clarkson, Murphy, Vercoe, Wilson and Fail-Blair families - as they're given 24 hours to design and build a scale model of their dream home.
The judges' decision, along with the public votes, will determine which two families will remain in the competition.
Many weeks later, in the final episode, both teams will be able to bid on their homes, but only one team will walk away with their home gifted to them for free. A public vote as well as the judges' votes each week will decide the winner.
Judging will be done as each room is finished and the families will also undergo against-the-clock challenges to win prize money, which can be used for bidding in the final or a mortgage for the losing team.
There's a few differences in this year's series - as well as local boy Simon Barnett taking over the host role from Jayne Kiely, there's also an emphasis on eco-friendly building and making long-term decisions about each house, which will be encouraged by the designer-builder teams allocated to each family. The series' judges are Christchurch building company boss David Reid, interior designer LeeAnn Yare and architect Peter Huia Reriti.
Also returning this week is Maori TV's own renovation show AIA Marae DIY (Wednesday, 8.30pm), which celebrates its 10th birthday as it tackles makeovers at seven marae round the country.
When: Tuesday, 7.30pm
Where: TV2
What: Cantabrians put their DIY skills to the test
Finale pick: REVENGE
In the aftermath of the blackout and the bombing at Grayson Global caused by The Initiative, Emily races to find out whether Jack was inside. Because of Nolan's warning, Jack avoided the blast, but the same can't be said for his brother. As emergency workers try to rescue Declan, Aiden emerges as a terrorist suspect.
But, as always with Revenge, there are many layers to the web of manipulation and it soon becomes clear that Conrad has been pulling more strings than anyone thought.
When: Tuesday, 9.35pm
Where: TV2
What: Who will survive the schemes of Conrad Grayson?
Documentary pick: OSCAR'S GUIDE TO THE CHINESE ZODIAC
Following his critically acclaimed role in Harry, Oscar Kightley turns his attention to the Chinese zodiac this week, examining the story behind these 12 animals, and China's age-old beliefs that each has a distinct personality passed on to the people, born in the year of each animal.
The show investigates the influences of Eastern astrology, asking experts, amateurs, and cynics about the extent of its impact on modern life as New Zealand's Asian population continues to grow.
When: Wednesday, 9.30pm
Where: TV3
What: Rat or Rooster?
Drama pick: PERSON OF INTEREST
Season two of this sci-fi crime series, created by Jonathan Nolan (The Prestige, The Dark Knight) picks up right after last year's cliffhanger, with Reese (Jim Cavalziel) trying to figure out what has happened to the Machine's maker, Finch (Michael Emerson).
The vigilante group continue trying to prevent crimes, with the Machine giving them the names of victims and perpetrators before the crimes are committed, and detectives Carter and Fusco continually closer to finding out about the Machine's existence.
When: Monday, 8.30pm
Where: TV One
What: Vigilante crime prevention
Crime pick: DEXTER
Even faithful fans of the show about the double life of killer Dexter Morgan - Miami police forensics guy and solo dad when he's not delivering his own brand of vigilante justice - will be relieved this season is the last.
The previous season had his deep dark secret revealed to his loyal detective sister Deb, who killed her boss to protect him and is now out of the force and harbouring her own guilty secret. This time round Michael C. Hall's Dexter comes into conflict with Dr Evelyn Vogel (Charlottle Rampling).
When: Mondays, 8.30pm
Where: SoHo
What: The beginning of the end
- TimeOut