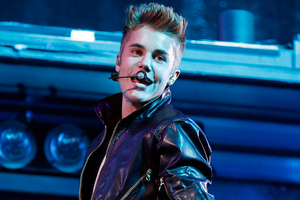 It's now official. Justin Bieber is returning to New Zealand to play his first full-scale concerts.
He plays Auckland's Vector Arena on November 23 and 24 with tickets on sale July 1 through Ticketmaster.
The 19-year-old Canadian star, who has sold 15 million albums worldwide, revealed his plans to return to New Zealand on Twitter almost two weeks ago but the official announcement was made last night.
It will be the Boyfriend singer's third visit to New Zealand after promotional trips in 2010, when he was mobbed by screaming fans at TV3 and performed to school students in Papakura.
In May last year he was here to push his latest album, Believe, but only played to a small group of competition winners.
When TimeOut interviewed him last year for the release of Believe he said he loved the sound of screaming girls - and never gets sick of it because, "they are the reason I'm in this position". "The intensity of my fans kind of dictates my career," said Bieber, "and when I show up to different places and have all these fans show up - at the venue or even at my hotel - those are stories that I am always going to remember and I think that it's just really incredible."
Bieber's Believe tour has been somewhat problematic. The star has arrived on stage late, he caused outrage by comments he made in the visitors' book at the Anne Frank House museum, and in March Customs officers at Munich Airport seized a capuchin monkey from his entourage because it lacked the official documents required for it to be travelling.
Bieber's two concerts are the month after fellow teen heart-throbs and British boy band One Direction play Vector, and the week before Taylor Swift's two shows at the same venue.
- TimeOut