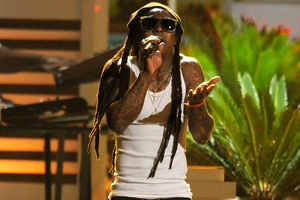 Rapper Lil Wayne has incurred the wrath of American patriots by stomping all over the US flag while filming a music video in Louisiana over the weekend.
The Lollipop hitmaker was shooting a promotional clip for his new track God Bless Amerika in New Orleans, when he was captured on camera intentionally dancing on the Star-Spangled Banner, America's symbol of independence.
Aside from upsetting his fellow countrymen, the rapper has also broken the law under the United States Flag Code.
According to the country legal's guidelines, the American flag should never touch the ground or be stepped on, but fortunately for the star, real name Dwayne Carter Jr, the rules aren't widely enforced by the government.
Video footage of the stunt, obtained by entertainment and celebrity website TMZ.com, has caused an uproar from fans, angry over the star's lack of respect for the flag.
Adding fuel to the fire, the song's lyrics are just as controversial - referencing America's violent slave history.
"My country 'tis of thee/Sweet land of kill 'em all and let 'em die/God bless Amerika/This ole' godless Amerika," Wayne raps.
- WENN