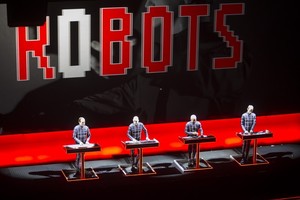 Kraftwerk are set to start work on their first new record in a decade.
The group recently refreshed Australian fans' memories of their eight hit albums by playing them in full on consecutive nights during a special concert series at the Sydney Opera House as part of the annual Vivid festival.
The German band recently played similar residencies in London, New York and Germany.
Now the Model stars have thrilled devotees by announcing plans to make their ninth studio album, which will mark their first new record since 2003's Tour de France Soundtracks.
Bandmember Ralf Hutter said: "Now this (the concerts) is done, one to eight. Now we can concentrate on (album) number nine."
- WENN