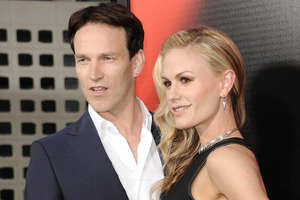 Anna Paquin and Stephen Moyer have finally unveiled their babies' names - but it wasn't done on purpose.
The married True Blood couple referred to their nine-month-old twins by their Christian names in press for the first time last night, calling the tiny tots Charlie and Poppy.
Moyer - who plays Paquin's on-screen love interest, vampire Bill Compton, in True Blood - was quizzed about his plans for Father's Day this weekend at the HBO show's season six premiere screening in Hollywood.
He told E! News he would be "hanging out with Charlie and Poppy", while his 10-year-old daughter from a previous relationship, Lilac, goes off to camp.
Paquin, 30, also said she was planning a special treat for her 43-year-old husband - who she wed in August 2010 - but kept quiet about the particulars of their family fun-filled day.
She explained: "I can't tell you because that would ruin the surprise. I don't know about [it being a] big surprise, but yes, there are plans."
Paquin has had a "really awesome" few months since the twins' birth but says she doesn't mind losing sleep because she is so excited about her work on the racy vampire drama and in the film X-Men: Days of Future Past.
She recently said: "Sleep's not a very big part of my life right now. But that's fine. It's kind of part of the deal ... When there are interesting things happening and interesting people you want to work with, you kind of jump on it and figure out the details, which thankfully have all kind of fallen into place."
- Bang! Showbiz