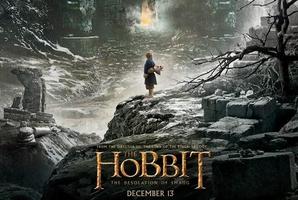 Hobbit fans have two pieces of good news to savour today.
Firstly, the first image from the second film in Peter Jackson's Hobbit trilogy has been revealed.
And secondly, a trailer will be released later this week.
The poster for The Hobbit: The Desolation of Smaug, due for release in December, was revealed on Twitter today from the movie's official Twitter account.
It shows Bilbo Baggins, played by Martin Freeman, standing in front of a giant stone castle, presumably where the dragon Smaug - who was briefly seen at the end of the The Hobbit: There and Back Again - lives.
The film's teaser trailer is being released on Wednesday morning (New Zealand time).
The Hobbit: The Desolation of Smaug is due for release on December 13.
* Check nzherald.co.nz first thing Wednesday morning for the first full trailer from The Hobbit: The Desolation of Smaug.
- nzherald.co.nz