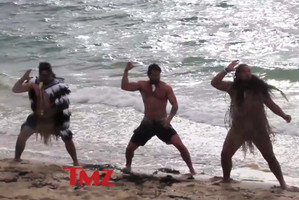 A video of Hollywood actor Jason Momoa performing a haka in New Zealand with two Kiwis has been mocked by American gossip website TMZ.com, which compares them to cheerleaders and says they should be on Broadway.
The clip has upset a Maori leader, who labelled TMZ "ignorant".
Hawaiian-born Momoa was in New Zealand recently to attend Armageddon, a science convention in Wellington, because of his former role in Stargate: Atlantis.
The clip of the 33-year-old doing the haka on an Auckland beach with two other men was obtained by TMZ, which attracts 17 million viewers a month.
A narration over the clip says: "No those guys aren't just pissed [angry] that it was a windy day at the beach, that's actually Game of Thrones star Jason Momoa in New Zealand doing the traditional dance known as ..."
It then skips to a clip of actor Jim Carey in Ace Ventura: When Nature Calls saying "Shikaka", referring to the name of an animal in the movie.
"Close, but it's actually called the haka," the narrator says.
A TMZ staffer says, "It's jazz hands", and the narrator continues: "He does have a point because it does seem a little theatrical, it's like Broadway on the beach in New Zealand."
He then compares the haka to the musical South Pacific.
The video annoyed Mana Party candidate Te Hamua Nikora, who compared the comments to those made by Danish MP Marie Krarup in April when she described a powhiri as "uncivilised and grotesque".
"Maori are unfortunately used to bearing the brunt of cultural ignorance," Mr Nikora said.
Momoa has often spoke about his love of New Zealand and the All Blacks. It was revealed he performed a haka to secure his role in Game of Thrones: