Hayley Atwell has been called a young Rampling, the next Knightley and Woody Allen's muse. She's conquered costume drama, rom-com and action. So, asks Gerard Gilbert, who is she, really?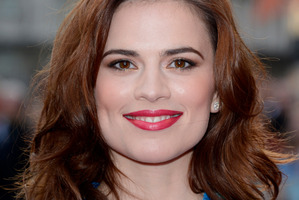 That's so rock'n'roll," observes Hayley Atwell cheerily when I tell her that the room we had been loaned at a private club is no longer available because Suggs, the frontman for British ska pop heroes Madness, is in there, snoozing on the sofa. In contrast, Atwell is looking bright-eyed and bushy-tailed, despite jet-lag and twisting her knee while out jogging, her brown eyes and honeyed skin offset by a carefully-chosen-that-morning, she says, red chemise.
The 30-year-old is, well, beautiful. Not that that particular trait, in her mind at least, has any great bearing over her acting career. "I can't imagine it if beauty was the only currency I used as an actress. It just doesn't interest me," she says.
Still, there was a time when she had an opportunity to be a model. "I went to Storm modelling agency and the woman just went, 'I think you'd be really bored.' Not to say I haven't met incredibly bright models, but I'd feel very, very restless."
And it just so happens Restless is the title of her latest project, a three-hour BBC adaptation (in two parts) of William Boyd's World War II spy novel, which starts on SoHo on June 17 at 8.30pm. Boyd's period page-turner tells of the covert British operation to persuade America to join the struggle against Hitler, with Atwell playing Eva Delectorskaya, a Russian emigre in pre-war Paris who is recruited for the British Secret Service.
The story is split between the war years and the long, hot summer of 1976, when young Oxford language tutor Ruth Gilmartin (played by Downton Abbey's Michelle Dockery) discovers that her mother, Sally, is in fact the aforementioned Eva Delectorskaya. Charlotte Rampling plays the older Eva.
"I was delighted to play a younger Charlotte Rampling," says Atwell. "I've spent a little time with her socially and I've worked with her twice before - in The Duchess, and on this independent film, I, Anna, which her son (Barnaby Southcombe) wrote and directed. She'd suggested me to play her daughter ... we're kind of merging."
This will also be the second time in two years that Atwell has embodied a 1940s William Boyd protagonist, having been Logan Mountstuart's second wife and the love of his life, Freya, in Channel 4's Bafta-winning version of Any Human Heart.
Her career began rapidly after leaving drama school in 2005, with the part of the bipolar, self-harming Catherine Fedden in Andrew Davies' BBC Two adaptation of Alan Hollinghurst's The Line of Beauty, before becoming Woody Allen's latest muse in his London-set 2007 drama Cassandra's Dream.
"I wish I felt like his muse but I hardly felt he ever talked to me," comments Atwell, adding that when they did speak, his advice was minimal - her description of his working method shedding some light on the strangely anonymous nature of Allen's late-career output.
"I'd say, 'what am I doing here? Who is this girl?' and Woody was like, 'Oh, you know, she's just a girl ...' and I'd go 'right ... okay.' It was an odd time, I was incredibly grateful for the experience and the doors that it opened to me and meeting someone like Woody. But I felt very rabbit-in-the-headlights."
A series of high-profile costume dramas ensued - in Julian Jarrold's Brideshead Revisited, in which her bewitching Julia Flyte was one of the better elements in an otherwise flawed movie, and opposite Keira Knightley in The Duchess, a role that elicited the almost Pavlovian response from journalists that the then 26-year-old Atwell was "the new Keira".
"And I said [putting on a cockney accent], 'No, I'm 'Ayley, and I'm goin' to do a theatre job now,' which is what I did. I never saw myself as this kind of flash in the pan ... I never wanted to be discovered. I found that terrifying because you're almost chosen by the celebrity culture to be this new thing, this kind of pin-up or something.
"I didn't think there was much creativity in that, or much freedom, and [after The Duchess] I purposively turned down those kinds of roles to do Major Barbara on stage at the Olivier in a dowdy Salvation Army uniform."
Sharing a film set with Knightley on The Duchess was, however, an eye-opener. "I saw someone who is spending a lot of energy fighting off a lot of press attention. I wouldn't wish that kind of attention on anyone."
Does Atwell herself ever get hounded? "I think I can really make myself invisible ... sometimes to a fault," she says. "I remember when I started doing interviews and being recognised once or twice, friends from school would ring me and say, 'You're such a dark horse because you weren't all that at school."'
She was brought up by her mother, Allison, in a bohemian enclave off Ladbroke Grove in west London, after her parents split up when she was 2, and her father, Grant (part Native American and "a Tom Selleck look-alike") returned to America. A photographer-turned-shaman (his tribal name translates as "Star Touches Earth"), her father is now a massage therapist.
"My dad is an emotionally articulate man," says Atwell. "From a very young age he would say why [her parents separated], what I meant to him, how much he missed me - I didn't ever have to ask. I respect my parents for the decision they made because they turned out to be much happier as a result."
She would spend her summer holidays in Kansas City, where her father lived with her grandparents. "He was a real talker. He'd recite the lyrics of Joni Mitchell songs like they were poems and he'd recite Elizabeth Browning and he'd talk a lot about philosophy and metaphysics."
In fact, at an age when her contemporaries might have been into boy bands, Atwell was more interested in history's great thinkers, Descartes being a particular favourite.
"I went to quite a rough comprehensive school [Sion-Manning Roman Catholic Girls' School] and I think it was a form of escapism, really," she says. "Life really wasn't easy or privileged for a lot of people in my class - or for myself. My house was no bigger than theirs and we had no more money than they did."
Her mother worked as a motivational speaker. "She was very much influenced by this wave of New Age thinking that came over in the 1970s, people like Deepak Chopra and Wayne Dyer and Marianne Williamson," says Atwell, rolling off their names like old friends.
An only child, Atwell herself admits to being lonely. "I always felt there was something missing when I saw friends with siblings," she says. "But I've turned out all right ... I'm fine."
If there was teenage rebellion, it was of the Saffy from Absolutely Fabulous variety. "I was very responsible," she says. "I spent so much time with adults that I felt really awful if kids were giving teachers a hard time." Perhaps as a result she was made head girl at Sion-Manning, and head of house when she joined the sixth form at the London Oratory School, one of the 10 per cent of non-Catholic pupils at the voluntary aided academy where Tony Blair sent his children.
For Atwell, her new surroundings meant the twin discoveries of boys ... and rugby.
"I was a prop," she says. "I won a medal - it's the only thing I've ever won - for most improved player of 1999. I did it because all the cool girls in the year above played rugby, and all the hot guys." Did she play the field, as it were? "No. Within the first month I had settled down with someone I was madly in love with and stayed for the entire time."
Indeed, she seems to have a strong monogamous streak. She met her long-term (now ex) boyfriend, TV writer Gabriel Bisset-Smith, at drama school at Guildhall, where she went after having been offered a place at Oxford to read theology and philosophy, but which she couldn't take up after failing to gain the requisite A-level grades.
"I think I kind of sabotaged it, to be honest," she says. "I remember after it all happened and it was clear I wasn't going to go to Oxford - I felt liberated."
Her contemporaries at Guildhall included fellow British actress Jodie Whittaker ("a great friend") and Dockery, who is playing her daughter in Restless.
She says she regrets now being so open in interviews about her relationship with Bisset-Smith. "We were friends for seven years before we started a relationship and now we're friends again," she says. "I didn't plan that at all - I'm not some amazing ex-girlfriend at all.
"But it taught me a valuable lesson in where I draw the line on privacy. It's very odd to have to talk about someone, especially when they're not in the public eye and can't talk for themselves. I'd see certain things in print and think, 'That is so reductive ... I want to respect it more."'
So is she seeing someone else now? "I'm kind of dating," she says in a mock cheesy American accent. "I'm not committed and he's not in the industry and that's really nice so we can keep it really separate."
Besides, she's far too busy. Since The Duchess she's played Peggy Carter, the kick-ass girlfriend of the eponymous Marvel Comics hero in Captain America: The First Avenger, starred alongside Ray Winstone in The Sweeney, and filmed Restless, among many other roles.
She's also just finished filming the second series of Charlie Brooker's dark comedy Black Mirror, the first series of which starts here on Wednesday at 9.30pm on SoHo. "I was a fan and called them up ... I fought my arse off to get it done."
And in next year's Jimi Hendrix biopic, All is by My Side, she plays Kathy Etchingham, the girlfriend of the guitar maestro before he became famous and, like Atwell's mother, a working-class Mancunian. "She swears in every line and is a chain-smoking wild child from the 60s, who had a notoriously tempestuous relationship with Jimi," says Atwell. "It's really nice playing working class, which is ultimately my roots - a lot of people wouldn't have thought that."
Who: Actress Hayley Atwell
What: Restless, new BBC series starts June 17, 8.30pm, SoHo
Past roles: Brideshead Revisited (2008); The Duchess (2008); The Pillars of the Earth (2010); Any Human Heart (2010); I, Anna (2012)
- Independent