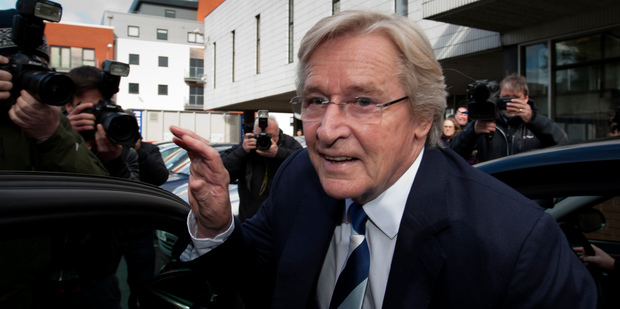 William Roache, a star of Britain's long-running Coronation Street soap opera, has been charged with five counts of indecent assault of young girls in addition to an earlier charge of rape, prosecutors say.
The 81-year-old, who has played Ken Barlow since the first episode of "Corrie" in 1960, is accused of indecently assaulting four girls aged between 11 or 12 and 16 on five occasions in the 1960s.
The allegations were made after Roache was last month charged with two counts of rape against a 15-year-old girl dating back to 1967.
At the time, he said: "I strenuously deny the allegations and will now focus my full attention on fighting to preserve my innocence in the challenging times ahead."
The new charges outlined by the Crown Prosecution Service allege that in 1965, Roache indecently assaulted a 14-year-old girl on two occasions and also indecently assaulted a 16-year-old girl.
Three years later, in 1968, he made a similar assault on a girl aged 13 or 14 and a girl aged 11 or 12, prosecutors claim.
Roache was first charged under a police investigation into historic sex abuse sparked by the revelations against late BBC presenter Jimmy Savile, now considered one of Britain's most prolific sex offenders.
Guinness World Records lists Coronation Street, which portrays life in a fictional part of Manchester, northwest England, as the longest-running soap opera, and Roache the longest serving soap actor in the world.
Broadcaster ITV said last month he would not appear in the show until the legal proceedings against him are concluded.
- AFP